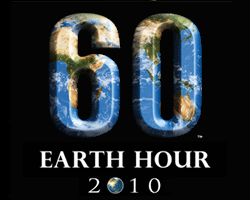 High electricity bills nowadays would make you look for free insurance quotes. The use of electricity is inevitable.
But the recent activity of WWF last March 27, 2010, proved that if it's for the good of our Earth, to battle climate change, everyone will sacrifice an hour of their electricity.
This event called the "Earth Hour" started in Australia in 2007 where they turned off their lights for an hour to battle climate change. In 2009 this event has been celebrated globally with the support of 88 countries worldwide.
Here in the Philippines the campaign for "Earth hour" was advertised through Television , Billboards , and even in Social Networking sites. There was even a Mob Dance video in the tune of "Disconnection Notice" sung by "Pupil" encouraging people to turn their lights off.
This act of the Earth Hour Philippines was a success, proof to this is our nation being ranked 1st among 88 nations when it comes to local participation. And this actually happened twice, last 2009 Earth Hour, over 10 million Filipinos participated which made us 1st as well, and this year it was estimated that 15 million Filipinos did participate in this event to battle climate change. Videos on how streets in Manila (Capital City) turned into darkness are even shown in some websites and blogs.