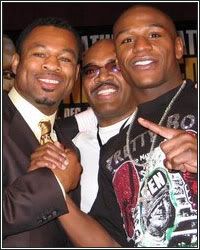 Most Filipinos anticipated Manny Pacquiao and Floyd Mayweather's clash inside the ring after Pacquiao brought Ricky Haton back to treadmill,  and let everyone know who is the best pound for pound boxer really is. But this didn't happen, why?
Floyd Mayweather beat Juan Manuel Marquez on September 19 2009, and after that everyone did look forward for "Mayweather vs Pacquiao" event being next in line. This was actually scheduled on March 13, of 2010 as agreed by both camps.
Unfortunately, as the date of their bout come near, Mayweather suddenly accused Pacquiao of using drugs/enhancers in his fights and demanded that Olympic type of drug testing should be done for both camps, most people considered it as Mayweather's tactic to distract Pacquiao.  But Pacquiao's camp did not just ignore the accusation, their match was cancelled since both camps could not come to an agreement on how the drug testing should be done.
Since their bout was cancelled Mayweather's camp was left without a challenger and this is why it resulted into accepting Mosley's challenge instead. Mosley actually challenged Mayweather after he defeated Marquez in September 2009. The bout was scheduled on May 1, 2010 in MGM Grand Garden Arena, Las Vegas, USA
I'm not a boxing fan, and I would normally just watch if it's Manny Pacquiao's match I really wanted to see Pacquiao beating someone who never suffered any losses, but since Mayweather successfully avoided the scenery, the only thing I could do is watch how "Mosley vs Mayweather's" fight would come up and measure this Mayweather's ability if he's even capable of keeping up with Pacquiao.