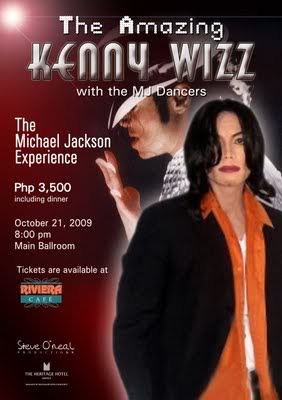 The whole world has expressed grief when Michael Jackson suddenly left us, June of last year, its actually few weeks before his scheduled series of concerts entitled "This is it".
I'm not sure if it was my generation who knows only of Michael Jackson thru his name,  his ability to dance and endorse acne cream, or it might be just me. I'm not a fan of him but after he died there's the feeling of losing someone very special as well.
Anyways, I'm pretty sure Michael would live in everybody's heart and mind thru eternity, though not physically. Uhmm, I'll take that back, coz MJ may still live in flesh, through this guy's presence. Heard of Kenny Wizz?
Kenny Wizz is the Number 1 Michael Jackson impersonator known in the US.  If you're a Filipino and already familiar with him well that's not surprising, Kenny Wizz performed a series of concerts here in Manila last year (2009), and he's having another series of concerts around the Philippines at present. You can try to checkout his busy schedule around the net, and watch him relive the Michael Jackson experience.