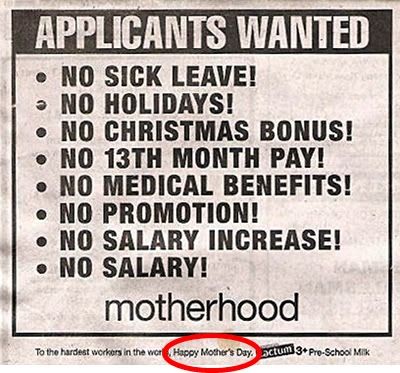 I was looking for the comics section in our newspaper today, of course most of the news still focuses on elections, and wrinkle cream reviews for those who've been waiting for the results. But my eyes got hooked in one of the column in the classified ads.
The image above is the exact column which took my attention, "who the heck would ever take that job", I told myself and got curious and continued reading.
I was about to turn the page, coz I thought its nonsense and was just a prank, but when I saw the company name, "Motherhood" and noticed there's a fine print below, that's when  emotions started flowing in >_< .
To those who were unable to read the fine print, it says "To the hardest workers in the world, Happy Mother's Day! An advertisement  from Lactum 3+ Pre-school Milk"