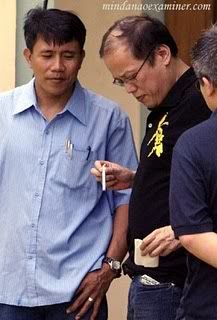 In the Philippines the percentage of smokers is high and currently increasing, despite the fact that we have an "Anti-smoking Law" in our country prohibiting individuals to carry lighted cigarettes in public areas with a fine ranging from 500-10,000php to violators. There are even advertisements informing people that smoking is bad for their health and they may need life insurance rate in the process since it can lead to death.
DOH (Department of Health) is currently pushing the forthcoming president Benigno "Noynoy" Aquino III to fully support the anti-smoking campaign where past governments have failed to execute properly.
But before that happens they need to convince the forthcoming president first of quitting his smoking habits. Unfortunately according to reports making him stop smoking might be a big problem, Noynoy Aquino already stated that he cannot quit smoking.
I personally hope that he would stop smoking not only for his health but at the same time strengthening the anti-smoking campaign! Being the president he would serve as a model to our present youth, who are currently under lots of vices, specially smoking which needs to be stopped.