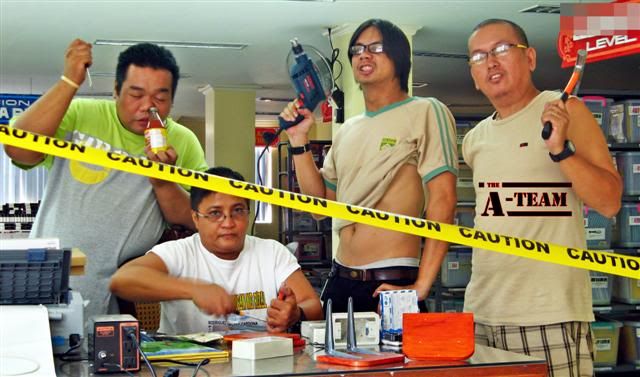 At last! Me and my co-employees finally nailed it! And that's installing a DSL connection at our office.
After almost a week of drilling holes, laying-out mouldings, crimping lan cables, and configuring routers (that's my main task).
It's My biggest ever LAN Project in my whole "digital life" haha!
Im actually no newbie in networking (I also do pyramiding – Powerhomes, EZ Life, MyTxtBiz, etc.. lol). I know how to ping, ipconfig, release and renew, or should I say the basics. I've managed three internet cafes before. And the largest I've handled has 20 desktop while the smallest has 6 units only.
By far, this was the biggest! Im talking about connecting a 16/port switch hub, a PLDT modem, 5 wireless  routers and about 80 cpu's (both desktop and laptop) to make them online (via wired or WiFi).
The most tiring of all is when we laid-out the mouldings! Specially on the stairways and corners of the building (btw it's a 3 storey building). The longest LAN cable we have laid out is about 160 feet. (still safe from signal loss from the maximum stretch of 100 meters or 328 feet).
Got a bit dizzy configuring the routers, I almost gave up on the 4th day, not until I discovered the technique of assigning every routers their static ip address, subnet, gateway, and DNS. That's the time I can boastfully say "its a piece of cake!" to everyone at the office haha! 😆