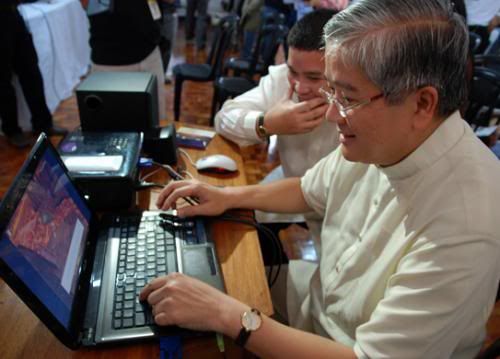 Games, Games, Gamesssss!
Yeah! Do I sound like the commercial of Vic Sotto haha!  It's something like a life insurance for seniors for me, as they are here to stay forever, and nobody can live without. By the way I'm talking about computer/video "GAMES". With the current generation who else aren't playing any computer game? People even treat virtual pets online for real, and *ehem* virtual "FARMS" being a popular one
Anyway gamers, behold, there's a new kind of 3D game in town, I just got a bit of information through the newspaper. I'm talking about "Paolo's Journey", it's a new kind of 3D game which is all about Pope Benedict XVI's Compendium of the Catechism of the Catholic Church. By the way, the game was developed by Fr. Maximo Villanueva (the image above).
According to what I've read, the game will be distributed for free to selected schools in the Metro, where 1000 cd's will be given to Grade 3 students. Hmmm.. I wonder why grade 3 only???
I guess the church is just being "IN" with the generation. The church's approach is great (I'm gonna give them 10/10 for this, I'll be bias since I'm a computer gamer ^_^). I think it's a nice idea to learn history via games like this. Imagine having your character venture the Philippines History and be able to see/talk with Jose Rizal, Andres Bonifacio etc. It's like learning while playing, *ehem* less boring right? 🙂