I've been thinking of having a pet these past few days. Its been a long time since I have one. Two days ago I drop by at the nearest pet shop after office hour. Since its the year of the rabbit, I've decided rabbit it is. Unfortunately, the store clerk says they ran out of rabbits and he don't know when a batch will be delivered.
So off I go, thinking maybe rabbits are not for me. I still wanna take home a pet. I even consult friends to asked for a pet recommendation. I got the usual suggestion of dog, cats, and fish. And yet I'm still undecided.
Not until, I went to the wedding of my co-pnsers Edward and Rhea (Best Wishes!!!). Actually, because of time constraint, I only made it to the reception at Kowloon House in Quezon Avenue haha.
My group (PnSers members), had positioned ourselves during the usual cake slicing, wine drinking, and other sweet posing of the newlyweds until it came down to the releasing of the pigeons.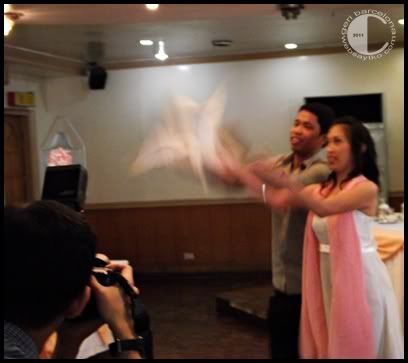 I instantly have pigeons
I even got a not so decent shot of that moment, when I notice that one of the pigeons landed on my plate, I quickly but gently grabbed it with my two hands and captured it (good thing I've put the camera strap on my neck hehe).
Well whaddyaknow! I now have an instant pet haha! One of the lady guest got the other pigeon, and she asked me if I want to keep it too. can you believe that haha!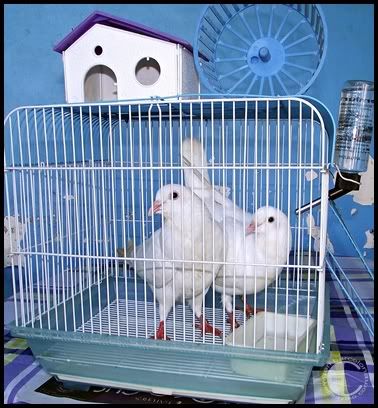 I instantly have pigeons
So that's why I went home with a pair of pigeons that are now kept (for a while) inside our abandoned hamster cage. Not until I find a way to make a bigger cage or who knows I just might set them free 😀