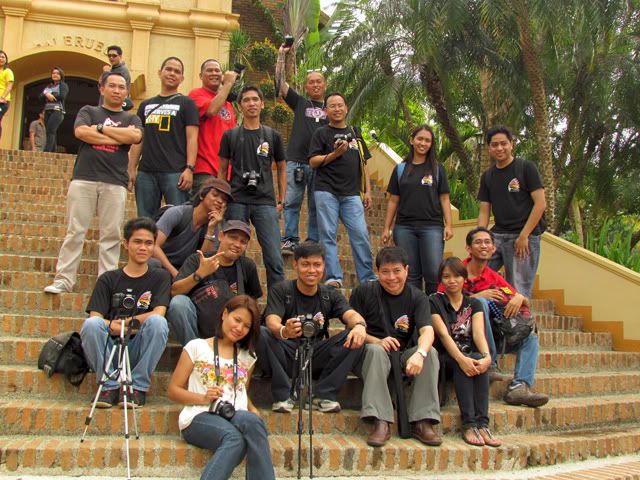 PnSers Camera Club
It was the first photowalk for 2011 for the PnSers Camera Club. And I'm happy to say that it was a huge success in terms of attendance! Seven new members joined us that day, which make us 17 indians, all together swarming and shooting all over the place.

Caleruega Chapel
Waking up early due to excitement, yet I know some even hasn't sleep at all haha! What more if were going for a bahamas cruise for our photowalk lol! Coming from different places (Metro Manila, Cavite and Rizal) and conveying on 4 vehicles. We first trooped down at 7-11 at Tagaytay Rotonda to wait for other indians to complete the delegations (naks delegations daw!!!). At last! at around 10AM we finally arrived (after we got lost haha) to our first destination. The famous sanctuary in Tagaytay, the Caleruega. It has a Mexican inspired architecture, great landscapes, and has an amazing garden with lots of flowers I seldom see on flower shops.

Bench at Caleruega
After landing at Caleruega, everyone was already starving. Good thing one of the members (Nhald) who just celebrated his birthday, brought a lot of tasty siopao! While Jackie brought some ice tea and Simonn (a new member, brought some yummy cookies).

Kabibe lababo at Caleruega
After munching (or while still munching) a few indians have already unpacked their gears and waste no time to spread out and start shooting haha! (addict ba? haha). The whole place was enormously big, plus it has a lot to offer to photographers like us, that it took us almost 4 hours before we decided to eat lunch haha!

People's Park in the Sky
Sonya's Garden was supposedly our next stop after Caleruega, and also for lunch. But one member (clutch) who was ahead of us at Sonia's, told us that place was too crowded because of a wedding celebration. That's when we decided to find another place to eat, and that's when we found Verdi Grille where we ate a healthy lunch of bulalo, lechon kawali and grilled chicken (pulos pampa high-blood hehe) plus the bulalo soup is unlimited haha!
We reached People's Park at pass 3pm already. The climate there was tremendously different from the rest of Tagaytay, its superduper chilly!. Cold wind welcome us as we hike all the way to the top. Great landscapes and sceneries are abundant up there. North to South, East to West there's a vantage point for us.
During our short stay there, we stopped time doing group shots, and having a cat as a model for a mini-photoshoot hehe. The clouds seems to got heavier way past 5pm and landed on us haha! Its foggy everywhere and the temperature also dropped, good thing most of us have jackets (excluding me wahhh).

Sunset at People's Park in the Sky
We're lucky we stayed there long enough to get a spectacular glimpse of the sunset. Although its like the sun is playing hide and seek with us, as the clouds appear and disappear from time to time, that's why there's a 10 – 15 seconds interval before we could shoot another haha!
We left at People's Park in the Sky at around 6pm, all tired but satisfied. Everyone was looking forward to do a photowalk again. 😀