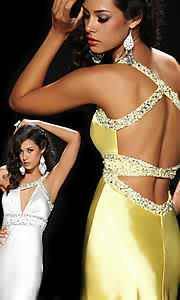 Are you having trouble looking for that perfect party dress that'll knock people's socks off? Something that looks classic and elegant yet still looks appropriate to your age?
With an impressive line of evening and cocktail dresses catering to sophisticated women ages 15-35 years old, Duggal Dresses is the place to be when you are dressing to impress. With a variety of selections for every special occasion like prom night, the most awaited homecoming dance, sweet sixteen party to celebrate your entry to adulthood or a stunning ensemble for wedding guests.
Choose from different designer brands like Terani, Jovani and Alyce with assorted embellishments that ought to send out that specific message to all that lays their eyes on you.
Now all you need is just a whiff of your most provocative perfume, the perfect pair of shoes and the most dashing man you know to make that special occasion just "darn perfect!".