Yamaha scooter fans has something to rave again as Yamaha Philippines officially launched the Yamaha MIO MX 125 last night at the famous Bonifacio High Street at the Fort. With the alluring DJ Nina adding that high feeling to the riders around with her awesome beats.
Prospective buyers of other brand of scooter would think twice after now that the Yamaha MIO MX has arrived. Just an example was my friend. His decision was abruptly gone haywire after seeing the MIO MX 125 last night haha! He's planning to buy a Kymco Like next week but after last night, I dunno haha!
I hope Yamaha Philippines would release more color options. They only unveiled three last night – The Bluish White Cocktail – the Black Metallic and Leaf Green Metallic. How I wish they raffled the 3 last night coz I badly needed a ride wahhh!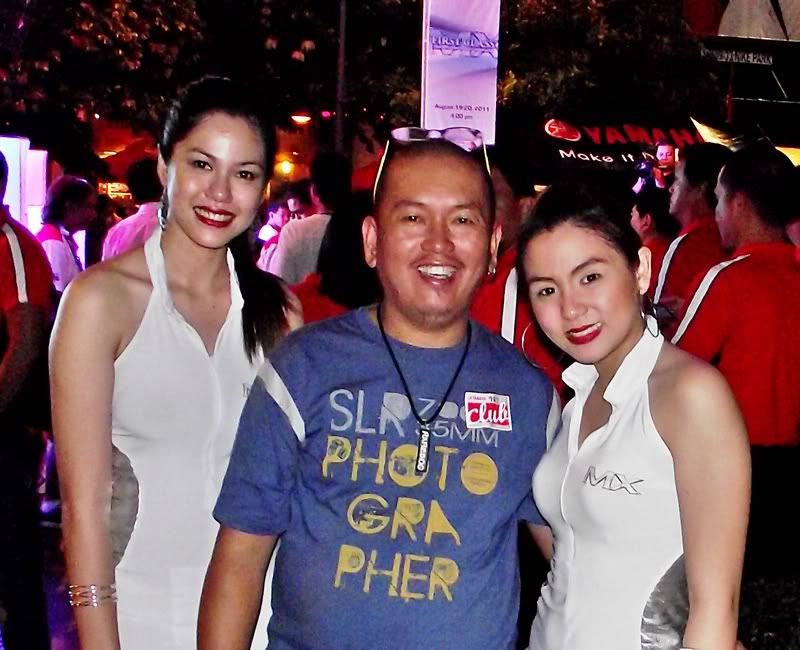 raredog at the launching of Yamaha Mio MX 125
Of course, a Yamaha event would not be complete with their beautiful models roaming around the event. That's when I got the chance to do my favorite camera pose "The Sandwich" haha!  coz "Nothing escapes Raredog" 🙄
Yamaha MIO MX 125 Specifications
Engine Type 4-stroke SOHC 2 valves – Liquid Cooled.
Volumetric cylinder 124 cc.
Compression ratio is 10.9: 1.
Bore and stroke 52.4 x 57.9 mm
Wet lubrication system.
Carburetor MIKUNI BS26 x 1.
DC ignition system – CD-i. (Digital).
Clutch Type dry centrifugal type automatic retreat center.
Starting system – electric start and kickstart.
Fuel capacity 4.1 liters.
Oil capacity 0.9 liters.
Transmission drive (V-Belt) Automatic
Reduced transmission rates from 2.540 to 0.838: 1.
Air filter paper (wet).
Length x width x high 685 x 1,850 x 1,060 mm
Height from floor to seat 750 mm
Distance from the ground up to 125 mm a
The wheel hub between 1,260 mm
Net weight / weight and full fuel tanks 99 kg / 104 kg
Suspension system.
Home Telescopic fork/Unit swing
Brake systems.
Front Disc brake piston single page.
Rear brake drum.
Tires.
Front 70/90-14MC 34P.
Rear 90/80-14MC 49P.
Lighting.
Headlight 12 volt 25 watt / 25 watts x 2