It feels Valentine's Day last night as me and my co-blogger Rommel enter this place in P.Tuazon in Cubao. The place is full of red gorgeous motorbikes.  Well why not? it's the place of the prestigious Italian motorcycle, the Ducati! And we were lucky we got an RSVP invites to grace the soft launching of the latest Ducati to hit the Philippine road. It's the "Ducati Monster 795".
"Ducati is like a Ferrari on two-wheels" I've heard from one of the marketing staff, and I can't agree more. Not only that they're both red and Italian made, but the craftsmanship and performance as well, that owners and would be owners have attached to their passion and lifestyle.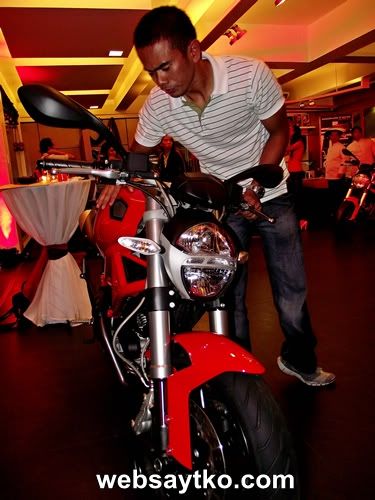 Rommel of melardenio.com inspecting the Monster 🙂
The grand launch of the Ducati Monster 795 with the theme "LIVING THE DREAM" will be held this coming December 10, 7:30pm at the New Eastwood Mall Open Park Ground.  I have asked about the Ducati Monster 795 SRP but they said it's a surprise and will be revealed only on the said event, so watch out for it Ducati fans because the price is connected with their theme. 😀
Be there to see and feel the newest monster of Ducati. The Monster 795!