Biyaheng Sagada was originally planned late last year. Dapat mga around December 26 to 30 ang alis pero naudlot dahil sa busy ang karamihan. Na-sked ito ng panibago ng January 21 – 23. Good thing that Monday January 23 was declared a holiday because its Chinese New Year! We we're composed of 1 Kymco Like, 1 Wave 100 and 2 Mio Amore. 4 riders and 1 backride. (Mine was the Pink Mio Amore)
So ayun, we (ViaJista – ang ViaJerong Turista) were all first timers on this road trip which we called "North Loop Junior" (Manila – Bulacan – Nueva Ecija – Nueva Vizcaya – Banaue – Bontoc – Sagada – Baguio – Manaoag – Manila).
That's why  we also make it a point na magtanong at mag-research beforehand (road guides, how long does it take, gas consumptions, road conditions, places to stay, food to eat, tools needed, etc..) para kahit papano me info kami along the way. We have gathered enough tips and info's pero siempre iba pa rin pag yung mismong in real time na, hindi na nasusunod yung ibang mga tips hehe. Like when we got lost at Villaverde, Nueva Vizcaya (the town after Solano) sa map kase there's a shortcut to Bagabag going to Lamut. Mapunta ba naman kami sa mga pilapil ng bukid at paliit ng paliit yung daan. Siguro kung trail bike kakayanin naman at mag-eenjoy pa hehe. Nasayangan din kami ng mga 1 oras mahigit dun dahil kakahanap ng daan. At grabe kase biglang baba ng temperature nung nasa parteng Lagawe na kami. Maulap ang daan at super ginaw brrrrrr! Naisip namin wag ng ituloy ng Sagada yung biyahe that day kase alanganin na at sayang din kung hindi namin ma-view ng maayos ang Banaue Rice Terraces.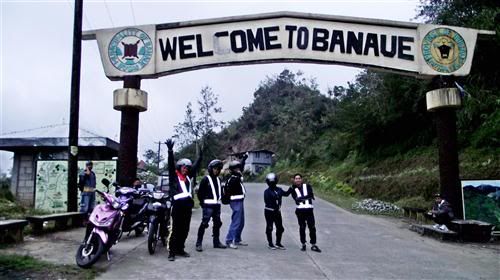 We actually take-off at around 5:30am at Lagro Novaliches, with an average pacing of 80 – 100 kph, some gas stops, food trips, sightseeing and pektyur-pektyur. We finally arrived at Banaue at around 5:30pm. Our calloused butt's finally rested at around 7pm at Terraceville Inn, Banaue after travelling a gruesome 350 kilometers that day.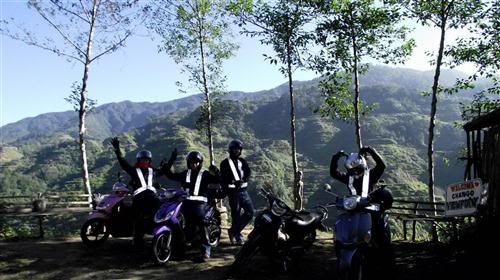 Tomorrow's destination – Sagada. We took off at around 8am. Mejo sikat na araw, ganun talaga gusto namin para makita ang mga rice terraces, kase the first day we arrived eh dapit-hapon na at super foggy pa kaya almost zero visibility talaga yung mga views.
We then then traversed the breathtaking road to Bontoc going to Sagada. The dizzying zigzag road are well paved. Me konting parte lang na inaayos pero overall smooth naman siya. Super ganda ng tanawin along the way. Kitang-kita ang kabundukan at ang mga ulap na napakababa. Sarap pati ng simoy ng hangin! Nakakatuwa kase its something na you won't usually see and feel in Manila.


From Dantay Crossing, its another 12 kilometers to reach Sagada and its not an easy one. Not only that its uphill but its also a rocky road. Me part din naman na sementado. Paputol-putol. Pero mas mahaba yung bako-bakong daan. We finally reached Sagada, just in time for lunch tapos konting pasyal-pasyal and as usual pektyur-pektyur. We decided to left at around 2pm kase baka kami gabihin sa Halsema Highway going to Baguio. Its only around 130 kms going there. Kung iisipin mga 2 – 3 hours lang ito kung straight yung kalsada ang kaso almost 95 percent eh zigzag at palusong pa. At ayon din sa mga napagtanungan namin, aabutin nga raw ng 4 – 6 hours ang traveling time.
Super lamig ng ride namin along Halsema Highway. I think umabot sa below zero yung temperature lalo na at naka-motor kami, mahangin at padilim na rin. Lahat kami ay nanginginig sa ginaw habang bumibiyahe. Walang nagawa yung leather jacket ko para kontrahin yung lamig. Nakatulong naman yung baon kong scarf kahit papano. Three of my co-rider even wears surgical gloves underneath their riding gloves para hindi manigas yung hands nila gaya ng napi-feel ko sa kamay ko na super naninigas na sa ginaw. Nagsuot na rin sila ng rain coats to battle the cold wind.
Likewise, its another breathtaking sceneries at Halsema Highway, (considered one of the dangerous highway in the world) mountains everywhere at sa wakas mararating ko na rin yung target kong famous road sign ng mga riders. Its the marker known as the Pali –  Highest Point in the Philippine Highway System, located at  Cattubo, Atok, Benguet after we failed to reach it last year.
We encountered two minor troubles along the way. The Kymco Like has carb difficiency kase dumalas yung pugak ng pipe although kaya pa naman tumakbo pero mejo hirap na sa mga paahon. Tapos yung Wave 100 naman tumigas yung throttle cable, which is quite dangerous kase you need force talaga para maibalik sa menor. So dito nagsimulang bumagal yung biyahe namin. I need to be at the back of the Wave 100 just to be at hand just in case something bad happens.
We reached La Trinidad capitol at around 8 pm.  After 6 hours of travel from Sagada. Challenging talaga yung pinagdaanan namin pati ng mga motor, unlike when we travelled to Pagudpud na pulos straight highway lang ang dadaanan. Dito sa Sagada Road Trip na ito eh dapat mas me experience yung rider kase mas technical yung dadaanan. So if you're just a newbie in motorcycling mejo hindi advisable to take this route as your first road trip. Andito na kase lahat ng klaseng road tracks and road conditions. – long straight highways, uphills, downhills, zigzag, rocky roads, hairpin turns  – uphill and downhill, single-track, muddy, watery roads, road cliffs, night ride,  and chilly weather. Not to mention na seldom ka lang makakita ng kabahayan, tao, at gas station.
The next day we part with the two troubled bikes kase they decided na ipaayos muna yung mga motor nila sa Baguio and will be staying a day more. So ayun, konting ikot sa Baguio, bili pasalubong, pektyur-pektyur then off we go.
And since my my ride buddy Eric eh gustong makadaan at magpa-bless na rin ng motor sa Our Lady of Manaog, nag-drop by na rin kami duon at dun na rin nag-rest at nag lunch.
We left past 3pm na rin. As we were riding along Dau Pampanga, merong nag-cut sa akin na tricycle ng alanganin that it made my rear brake cable snapped! Thank God that it happened here kako sa patag na. Kase kung dun napatid somewhere in Sagada mas delikado. So yun, we were able to find a shop naman na merong replacement cable. Then along the way meron pa kaming dinalaw na kaibigan along Angeles at dun na rin kami nag-dinner.
We have reached the same place we started at Lagro Quezon City at around 10:30pm. We thanked God for our safe travel and to all the wonderful places we've been. Until next time po 😀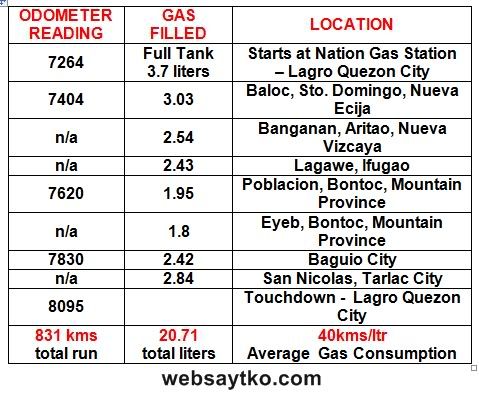 More photos of our Sagada Road Trip – http://www.facebook.com/raredog?sk=photos
Like ViaJista on Facebook – http://www.facebook.com/viajista