The breathtaking Rice Terraces in Banaue, the historical cross in Mt. Samat, the chilly town of Sagada, the windy province of Bangui Ilocos Norte, the high altitude and dizzying roads of Benguet, the holy place of Manaoag , the cool and sleek  turns at Marilaque,  and the long highways of Pagudpud hayyyyy kapagod po hehe! 😆
So what are these beautiful places have in common?
Sirit?
Hindi nga?
Wehhh?
Ok,  the answer is simple. – North 😀
Kase po lahat ng lugar na yan ay nasa Norte po hehe. At para maiba naman ang trip this summer of 2012. I'm contemplating, or rather we pala (ViaJista) for a change, were planning to go far South this time. And we wanna make it a much more adventurous one than our last ride!
We would be heading to (drumroll) Caramoan Islands in the Bicol Region tadahhh!
So far I've done some research and found out that its approximately 501 kilometers from Manila. Mejo malayo-layo din pala, but not as far naman as Pagudpud hehe. So there's a need talaga na mag-baon ng mga ilang boteng Gatorade nito to quench our thirst along the way. Nakakauhaw kase lalo na ngayong tag-init and you're on the road pa. It's really one of the basic necessity on a road-trip like this one, mahirap na baka mag overheat katawan namin haha.
Tapos  eto pa matindi, ika nga eh adding more spice to this trip, biruin nyo upon checking googlemap, I've found out two outstanding facts sa aming destinasyon. First, me lugar palang "Maangas" sa Bicol hehe, and secondly, putol yung well-paved road going to Caramoan! Toinks! That means we're definitely going off-road for quite some timeeeee! Sigh! Kayanin sana ng mga scooter namin yung dadaanan. Sabi kase sa isang blog,  "a public jeepney taking this route (Naga to Caramoan) takes about 5 hours…" Whoopeee Goldberg can you imagine that, 5 hours of rough road..Sighhh
But since ViaJista are riders with NO FEAR, tatahakin pa rin namin ito, by hook or by crook. (matapang yata kami hehe).
Maiba tayo, seriously, I was scouting for a good helmet to replace my old one, and dun ko na-discover yung Reboot (half-face) at Phoenix (full-face) they were both designed and manufactured by Spyder Helmets.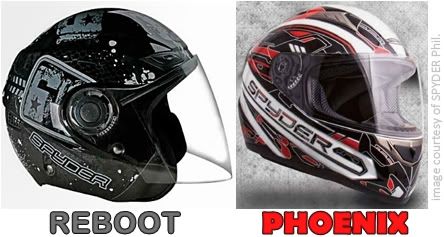 They are both amazinggggg! Parehas maganda yung design. Sanay ako sa half-face kaya ko nagustuhan yung Reboot pero yung Phoenix naman matikas yung feature nyang "air fit system", parang ang sarap subukan hehe.  Hopefully makabili ako bago kami bumiyahe.
Dun ko na rin nakita sa online catalog nila yung polarized sun glasses nila na merong 100% UV Protection. The model above is the – Ridge. Sakto ito pag nasa beach na kami ng mga amigos ko hehe. Balak kase namin to spend at least 2 nights at the famous location of Survivor series – the Gota Beach! Para na rin ma-experience naming ang  iba't-ibang water activities like kayaking and skin diving. I might as well include in my plan to wake-up early for an early jog and give my Skechers GoRun some beach activity and to stroll na rin and see the beauty of the island!  Lastly, of course siempre hindi pedeng makalimutan yung best part, yun bang relaxing and unwinding at the beach at night with the 4B's (bonfire, bbq, booze and babes) Yeeeehaaaw!!!
I'm hoping and crossing my fingers (hands and feet) to nail this summer plan! And I'm also looking forward to document and post it on my favorite motorcycle site – Motorcyclephilippines (MCP). I just can't wait!!!