This Manila-Bolinao-Zambales-Manila Loop all happened by chance, as I saw the wall post of my camera buddy Sir Kites on FB that he was inviting anyone to join him on a vacation to Alaminos, Pangasinan, particularly at Hundred Islands. We (ViaJista) have lots of ride plans this summer but unfortunately all my ride buddies were not available with the schedule. And so I made a decision to go solo this time.
But then… It instantly becomes one historical ride for me because this time I'm riding with my offspring Kevin, a.k.a. Kuneho of myamats.com. I was confiding to Kevin about the said trip and told him that my ride buddies have different reasons not to tag along this time, until I made Kevin to decide to come with me haha! It's actually his first looooooong ride with his scoot! Coincidentally, his Ninong Ariel was here in Manila for a short vacation and supported him financially on this trip. (I think that really made Kevin to say yes haha!)
Ok, we took off a bit late on April 5, around 8:30am and travel this way (the route – Lagro, Sta.Maria Bulacan, Bocaue, Calumpit, San Fernando, Mabalacat, Tarlac City, Camiling, Mangatarem, Lingayen,  and ended in Alaminos, Pangasinan) we arrived at around 3:30pm at Brgy. Polo in Alaminos, Pangasinan where we were welcome with a sumptuous meal of the famous Alaminos Longganisa with bagoong isda sauce ,the delicious Ilokano Igado and a steaming rice! This is where we would stay for 3 days and 2 nights and you could imagine this is only their welcome meal!
April 6 – We woke up early, together with 15 other people, we need to get the early boat going to Hundred Islands for us to get hold of a much better cottage since this is peak season. So me and Kevin actually drove our scooter to the Alaminos Port and parked it there as we wait for the entourage. Lucky me as I got the chance to shoot the golden hour at the port while we wait.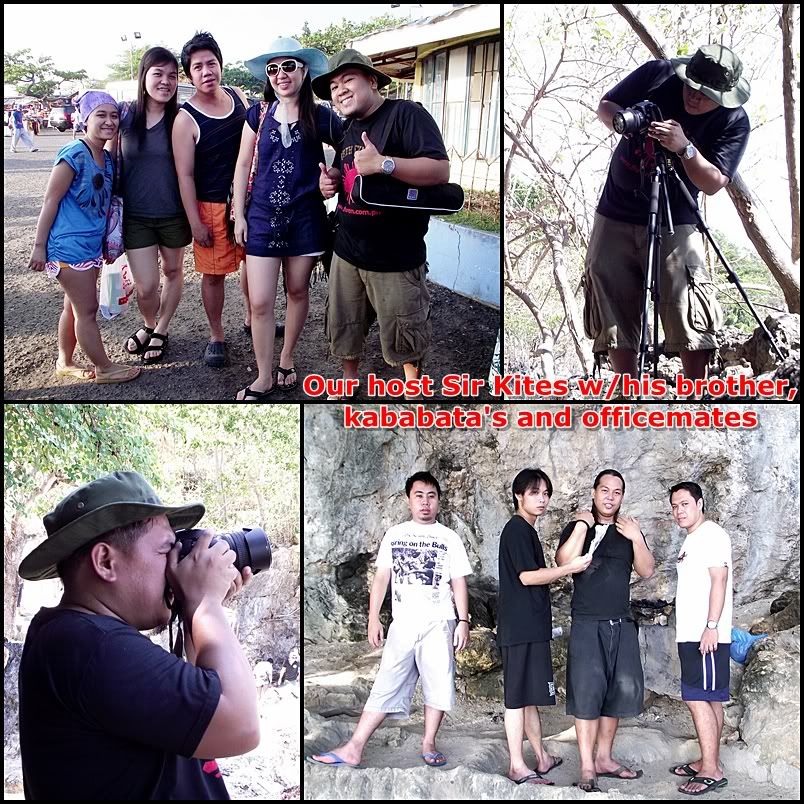 The boat we got is super fast (sa kabaligtaran) every boat passed us smoothly that I thought we'll land land on Governor's Island at lunchtime haha! Good thing it's still breakfast time when we arrived. I took no time in exploring the island just after I ate some heavy breakfast of inihaw na tilapia and rice. There's so much to shoot!  The islands, the caves and the babes hehe. There's also so much to do the whole day. We swim, we trekked, seized a power nap, a drinking spree with a bottle of Johnny Walker Black, munched n munched, done some caving,  and we even wade in the water (up to my beer belly) to reach a nearby island (around 30 meters from Governor's Island) and of course a photowalk around the island.
We decided to go home at 5pm and reach Alaminos port at around 6pm but got home a bit late because the road were temporarily closed to give way to the very very long Lenten procession.  (by the way its about 10 kilometers from the port up to Sir Kites house). Have a quick dinner followed by a kwentuhan and inuman at the backyard (I need to be intoxicated this time to sleep well haha, the first night kase namamahay pa ako)
So you have reached this point! You might be thinking where is the Bolinao part? Kasunod na po hehe! 😀
Actually our ride plan is only to Alaminos, Pangasinan, but since Bolinao is quite near from where we are (almost near Bani, Pangasinan) we decided to visit it as well before we go home. So on the morning of April 7, after packing our things and a hearty breakfast, we bade goodbye to Sir Kites and his posse. Our destination, Bolinao!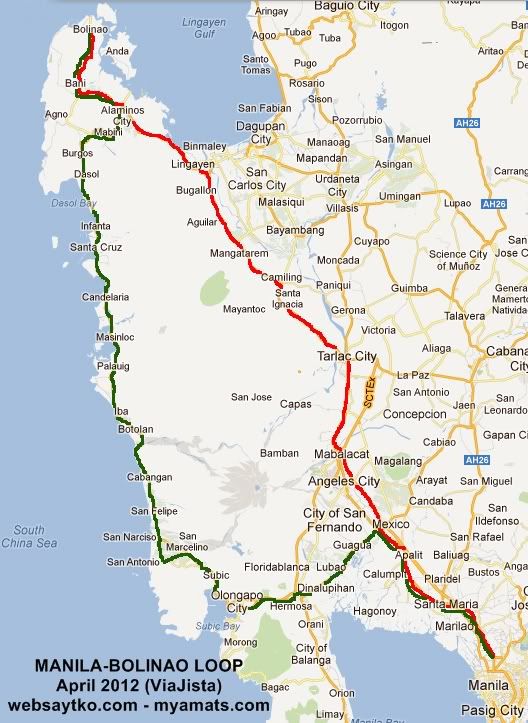 Its absolutely near, bcoz within a few minutes of riding (18 kilometers to be exact) we've reached the twin replica lighthouse of the place. Shoot some souvenir photos and off we go, this time the ride plan was again revised. We decided to make it a loop and take the scenic and much more longer way home, and that is thru Mabini, Pangasinan down to Zambales then to Lubao, Pampanga before going again to Calumpit.  Arrived at around 8:30pm at Novaliches. We thank God for our bonding and the wonderful trip and experience (although I got an oil leak on my gear box starting on the first day and a sliding clutch on the third day, Ozzy still delivers)
And as always, we arrived tired but happy and proud of another successful ride. 😀
Travel Report
Road Condition – Perfect! (No detour, no repairs, no rough roads)
260 kms from Manila to Bolinao via Camiling, Pangasinan
(the route – Start at Novaliches QC, Sta.Maria Bulacan, Bocaue, Calumpit, San Fernando, Mabalacat, Tarlac City, Camiling, Mangatarem, Lingayen, Alaminos, Bani, Bolinao)
345 kms from Bolinao to Manila via Zambales
(the route – Bolinao, Bani, Mabini, Burgos, Masinloc, Botolan, San Antonio, Olangapo City, Lubao, Calumpit, Bocaue, Sta. Maria, ends at Novaliches, QC)
260 + 345 = 605kms + 35kms roaming around Alaminos, Hundred Islands = 640kms
640 kms / 14.42 liters gas consumed = averaging of 44.3 kms/liter