Calling all health and marathon buffs out there specially if you are near Antipolo City. There will be a fun run to commemorate the death of Prof. Chit Simbulan, who was killed in a bus-taxi collision on Commonwealth Avenue last year and to create awareness on the increasing road accidents that happen each year here in our country.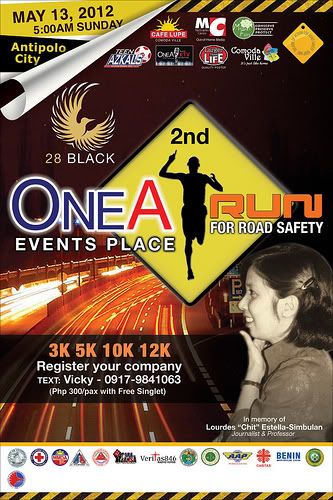 Dubbed the OneA Run for Road Safety, initiated by MacGraphics Carranz's top honcho Alvin Carranza and a joint activity with DOTC's (Department of Transportation and Communication) Decade of Action for Road Safety is set to take place on May 13, 2012, at 5:00 a.m.
Starting point will be at OneA Place in Antipolo City, where there's going to be an onsite registration.
The fee is only 300 pesos, which comes with a singlet (see image below). I just hope they also got customized t-shirts for this event bcoz I like the design and the color black hehe.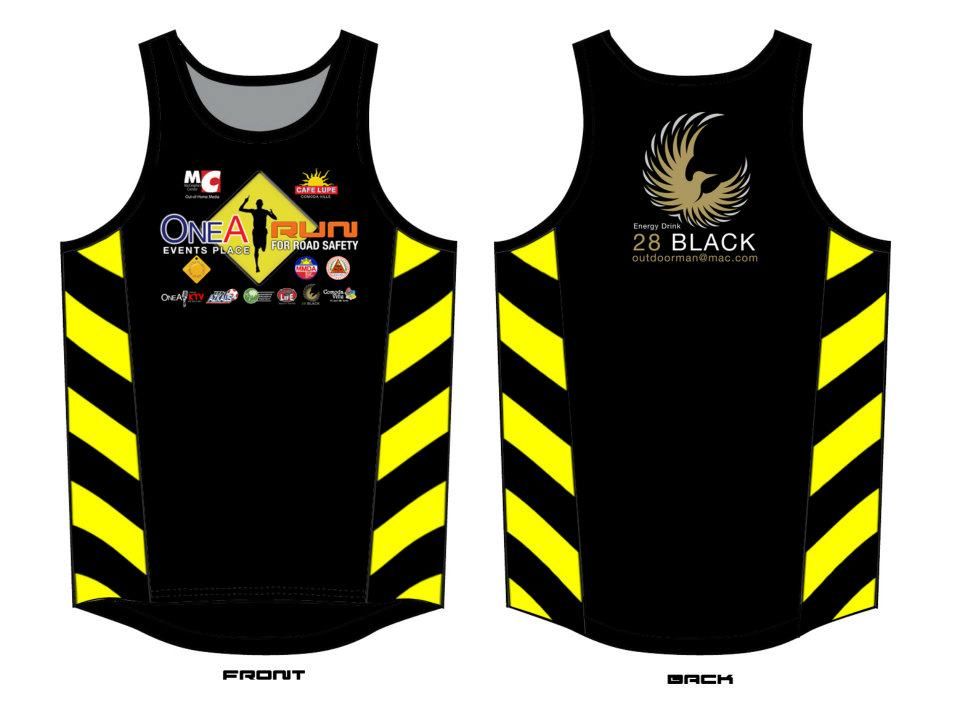 To register for the 3K, 5K, 10K, or 12K event, contact Vicky 0917 9841063 or text these numbers 09224194879 and 09175599019. Other activities, such as relay run, walkathon, bike-athon, and motorcade, will happen at the Quezon City Memorial Circle.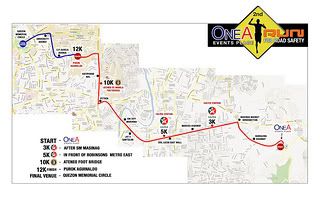 3K – Caltex after SM Masinag
5K – In front of Robinsons Metro East
10K – Ateneo Post Bridge
12K – Purok Aguinaldo
Final Venue – Quezon Memorial Circle
According to Mr. Roland Simbulan (the husband of the U.P. professor/journalist who was killed in a bus-taxi collision last May 13, 2011)
Itong mga nangyayaring road crashes, they could really alter someone's life. It's been almost a year since the untimely death of my wife, Lourdes"Chit" Estella Simbulan.

Speed limit has been implemented on major highways, including Commonwealth Avenue—where Chit died instantly.

But the numbers on road injuries keep on rising.

In an interview held at the Café Lupe inAntipolo City, Roland told the bloggers, "I wouldn't call it an accident. Road crash is more accurate.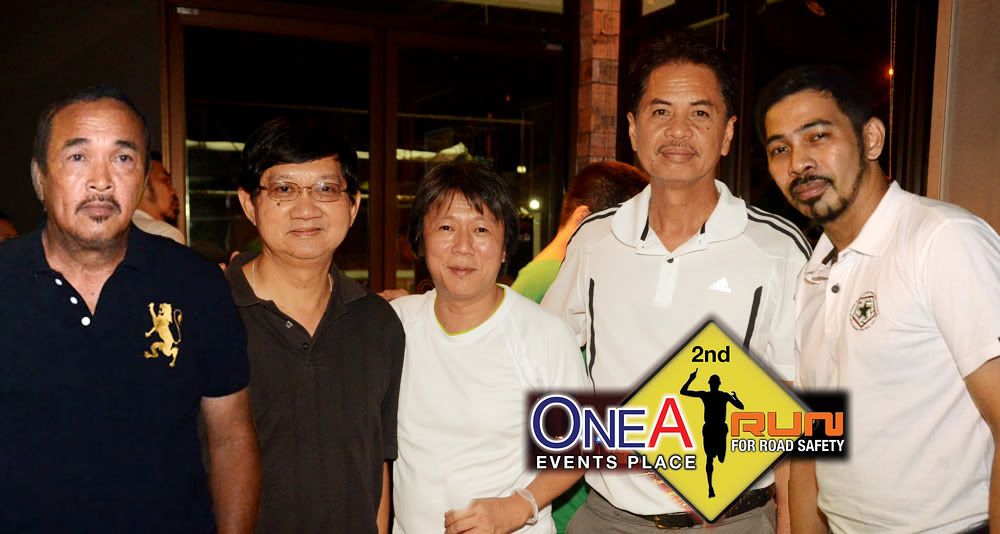 Also present at the bloggers' night were Alvin Carranza (MacGraphics Carranza and Pilipinas teen Azkals), Chito Manuel (Philippine Football Federation), and Atoy Sta. Cruz (Motorcycle Philippines Federation).
Assembly will be at the OneA Events Place at 5:00 a.m.
Several government agencies joined forces to organize this run: Department of Transportation and Communications (DOTC), Metropolitan Manila Development Authority (MMDA), Land Transportation Office (LTO); Land Transportation, Franchising and Regulatory Board (LTFRB), Automobile Association of the Philippines, and Motorcycle Philippines Federation.
Alvin Carranza, the founder of MacGraphics Carranz and team manager of Pilipinas Teen Azkals.
Aside from owning OneA Events Place, the run's starting point, road safety—he says— has been one of his advocacies.
He tells the bloggers on May 10 at the Café Lupe, "If we're aware of what the government agencies, including U.N., has been doing, we'll remember that each time we drive, we have to be more careful."
The recent statistics released by the World Bank last month states, "Currently, 1.3 million people are killed on the world's roads each year and 90 percent of these deaths occur in low- and middle-income countries, with an economic cost that can exceed total overseas aid flowing in."
Carranza adds, "Sa Pilipinas, hindi pa kasama yung sa probinsiya, nasa top 5 tayo sa may pinakamaraming road injuries.Gayang sinabi ni Professor Roland Simbulan, the husband of Ms. Chit, ang road safety should be everyone's concern."
The run, which will be held this Sunday, at 5:00 a.m., also commemorates the declaration of U.N.'s Decade of Action for Road Safety last year.
By the way, do check out for this energy drink that will soon to be launched here in the Philippines. Its cool and its black. It's the Acai 28 Black energy drink which is one of the sponsors for the OneA Run For Road Safety.