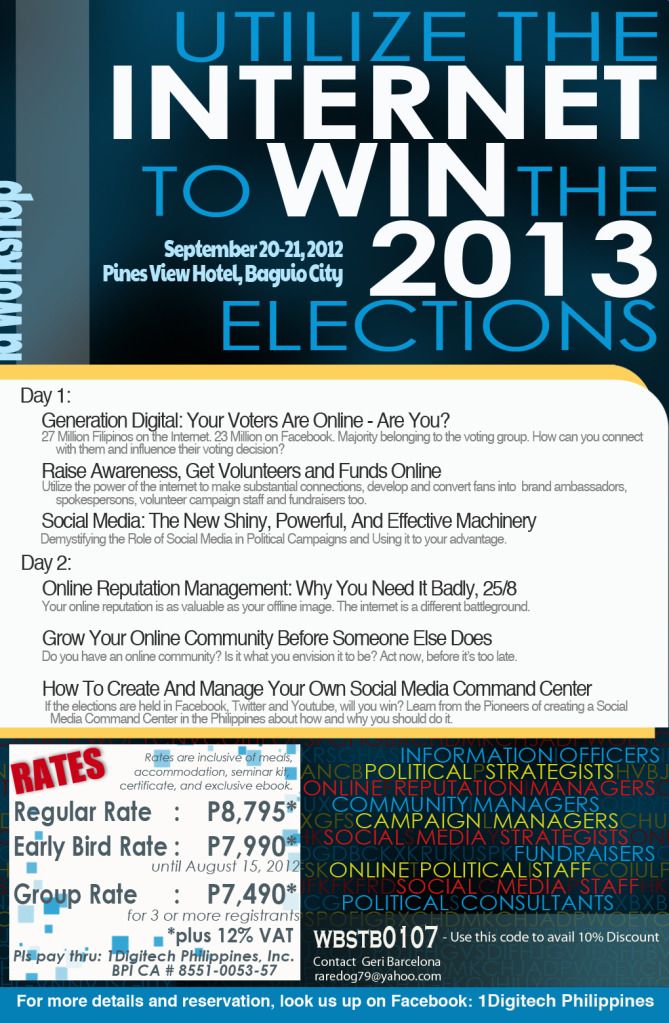 Ten months from now and its election time once again. I'm sure a lot of aspiring politicans and traditional politicians are now conspicously and inconspicously making their moves to their constituents to win the position they are targetting for the forthcoming election.
If you are one of them, wouldn't it be great if you got an edge to your political opponent/s by utilizing the information superhighway or popularly known as the "INTERNET".
I'm inviting all those people concerns in the coming May 2013 election particularly INFORMATION OFFICERS, POLITICAL STRATEGISTS, ONLINE REPUTATION MANAGERS, COMMUNITY MANAGERS, SOCIAL CAMPAIGN MANAGERS, SOCIAL MEDIA STRATEGISTS, FUNDRAISERS, ONLINE POLITICAL STAFF, POLITICAL CONSULTANTS, SOCIAL MEDIA STAFF to attend the "UTILIZE THE INTERNET To WIN THE 2013 ELECTIONS" this coming September 21-21, 2012 at Pines View Hotel, Baguio City. This seminar is one way of getting that edge to win the election!
Regular Rate : P8,795
Early Bird Rate : P7,990 until August 15, 2012
Group Rate : P7,490* for 3 or more registrants • • *plus 12% VAT
Rates are inclusive of meals, accommodation, seminar kit, certificate, and exclusive ebook.
Please pay thru: 1Digitech Philippines, Inc. BPI CA #8551-0053-57
Use this code WBSTB0107 – to avail 10% Discount
For more details and reservation contact Geri Barcelona – email address: raredog79@yahoo.com or look us up on Facebook: 1Digitech Philippines
Some important facts on the coming election courtesy of WiKipedia
Twelve of the 24 seats in the Senate are up for election, including the seat vacated by the current president, Benigno Aquino III. And due to the appointment of Miriam Defensor Santiago to the International Criminal Court, her seat will be vacated. However, the senator will not quit the position yet until the ICC President told her to do so.
All local government units will have their local elections on this day. Positions up are mayors, vice mayors, councilors, and if applicable, governors, vice governors and board members. However, Barangay elections might be postponed due to insufficiency of funds.
The 2016 Philippine presidential election is the next presidential election, to be held in May 9, 2016. President Benigno Aquino III will not be eligible to run for a second successive term during this election since he is term-limited.