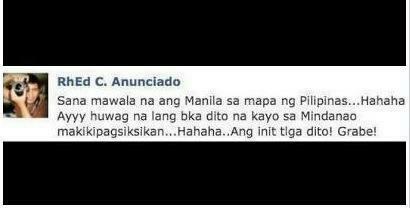 When will people learn that what you post on facebook will always be seen by the public?!! That's why it's called a damn social networking site.
A few days ago, while the city of Manila and the surrounding provinces in Luzon are in the throes of survival from a very devastating outpour of rain, a stupid guy decided to post some thoughtless comment in tagalog on his facebook wall that translate into english:
Hope Manila gets erased from the map…hahaha. On second thought, people might suddenly rush here to Mindanao.hahaha It's so hot here."
That's like taking a megaphone and attaching it to a bogner alchemist amplifier and with the vast number of Filipinos scattered all over the world worried for their own families here, he sure is bound to get some hate mail.
Screenshots of this posts where immediately taken and it turned viral among Filipino fb users. Even when he took down the post, the damage has already been done. And now he has just experience one of the ways on how to become a celebrity in Filipino soil. Hope he has no plans of running for government office.