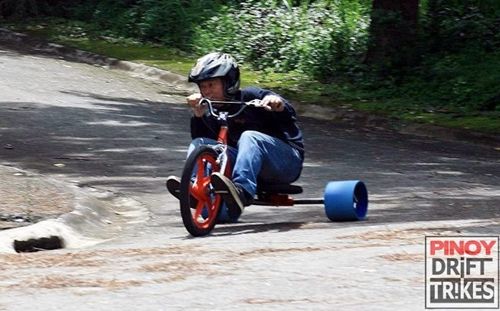 It's like riding a roller coaster! Every second of the ride is full of thrill and excitement!  The adrenalin rushing through my veins was amazing! And conquering the fear of downhill drifting was awesome! This is how I described my drift trike experience last Sunday together with my new found crazy and wacko posse at Pinoy Drift Trikes. They are Xtian, @ndrew, JP, L3nard and J0hn.
I can still recall the burnt smell of my brake pads as I was descending super fast with Tricia (my trike) on the slope.  My brakes is inutile to handle the situation,  to halt  or even to slow it down. I also used my sneakers to make it slow but to no avail it just slow down a bit. Its extremely fast and I really don't anticipate this to happen.  I'm beginning to foresee that some of my skin will leave marks on the pavement or sooner I'll be having a face plant on the bark of a tree along the road har har!
Good thing after around 500 meters of downhill, there came this uphill portion of the road that makes my speed slow down and bring it to a stop. I'm super duper stoked! But, I'm not stopping, I wanna do it again and again and again haha!. Because that's what makes drift triking an extreme sport! It's all about speeding and sliding!
I'm actually riding a scooter (motorcycle) for around12 years now. Travelling from different places around, but it never entered my mind to use safety gears like elbow and knee pads. But with this experience in drift triking, I think investing on safety gears would be a wise decision haha! 😛
Another thing. I was having high blood reading the past few days before that drift triking day, and was totally surprised to find it lowers down to normal blood pressure the day after despite being under the sun for quite a long time and the tremendous walk uphill. I guess that adrenalin rush helps in pushing that sleeping blood of mine in my arteries haha! 😀