Who would not want a transportation that's eco-friendly, quick response and fuel efficient! Specially now that price of gasoline is skyrocketing again.
Is 55.7 kilometer per liter gas mileage good or not? 😀
Well, Yamaha made this all possible by launching the All-New Yamaha Mio Soul-i last week during the 2012 Yamaha International Motorshow at the Mall of Asia. This is the first scooter of its kind that is equipped with FI Technology or Fuel-Injection which Yamaha called YM Jet FI.
So basically what is F.I. Technology
"An intelligent Fuel Supply System that has a computer (ECU) that calculates injection duration, injection timing and ignition timing based on received signal from sensors according to temperature or environmental air conditions"
or in a layman terms, this would be the scenario
After an hour of an outdoor activity and sun exposure, you felt thirsty. Your brain urgently identifies your need and its objective is to quench your thirst. That is why it will immediately dictate your entire senses to send the message directly to your body for the actions. Of course, your brain, as a central control unit, will automatically stop you from drinking too much water, for you not to feel bloated. Your brain will give your senses exact information on what to do – no more, no less – enough to sustain your need. It is also same with of Fuel Injection where the Engine Control Unit (ECU) acts as the motorcycle's brain.

Source: Yamaha 360 Degrees Magazine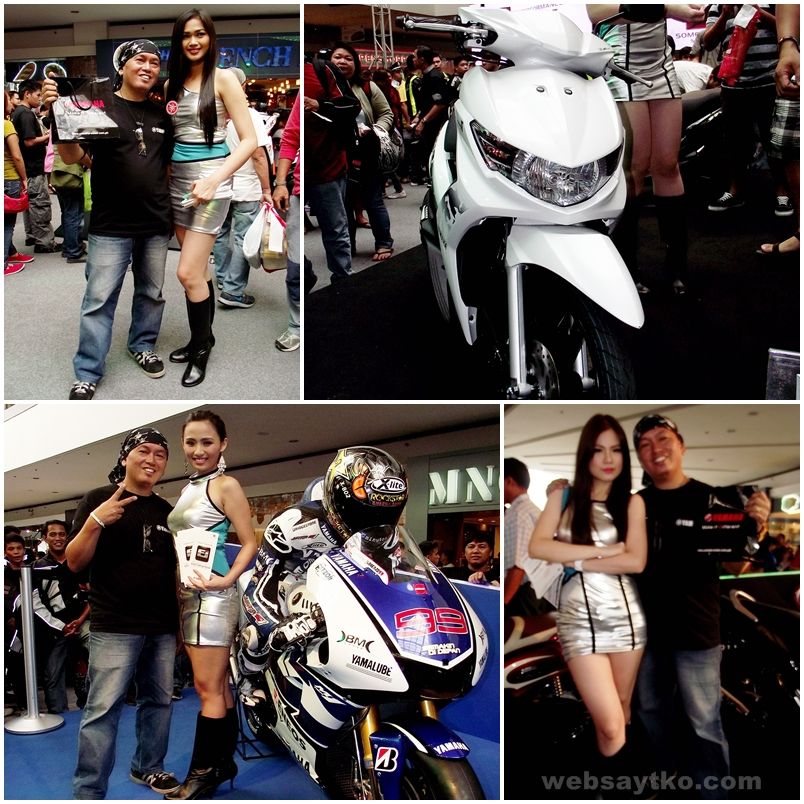 2012 Yamaha Mio Soul 115i EFI Specifications
Engine type: 4 Stroke, 2 Valve SOHC, Air Cooled fan
Number / Position
Cylinders: Single Cylinder / HorizontalCylinder
Volume: 113.7 ccBore x Stroke: 50.0 × 57.9 mm
Maximum Power: 7.75 ps – 8,500 rpm
Maximum torque: 8.5 ps – 5,000 rpm
Starter System: Electric Starter and Kick Starter
Lubrication system: WetFuel
System: Yamaha Jet Fuel Injection (YM Jet-FI) System
Clutch type: Dry, Centrifugal Clutches
Transmission Type: Automatic V-belt
Fuel: Unleaded gasoline 91 octane gasoline
or ethanol 91 octane or higher.
Fuel capacity: 4.8 liters.
Oil capacity: 0.8 liter.
Transmission power: Automatic V-belt (V-Belt).
Transmission rate: 2.343-0.874:1.
Ratio gear set: 9.882 (47/15 x 41/13).
Air filter: Paper (wet)
Operation pattern Transmission: Automatic CVT
Frame Type: Steel Pipe Down Bones / Steel Tube Underbone
Suspension Front: Telescopic
Rear Suspension: Unit Swing, Single Suspension
Tires Front: 70/90-14M/C 34P Rear tires: 40P 80/90-14M/C
Brakes Front: Disc Rear brake: Drum
Ignition system: TCI
Battery: YTZ4V-MF (MF Battery)
sparkplug: C6HSA (NGK)
Trail: 26.5 ° / 100 mm
Length x width x height: 700×1, 850×1, 050 mm
Height from floor to seat: 745 mm
Distance from ground to air: 130 mm
Wheel base: 1260 mm
Net weight / gross weight of a full tank: 87/93 kg
SRP of 2012 Yamaha Mio Soul 115i EFI is P78,000 
Would you be my Santa Mr. Takeshi 🙄