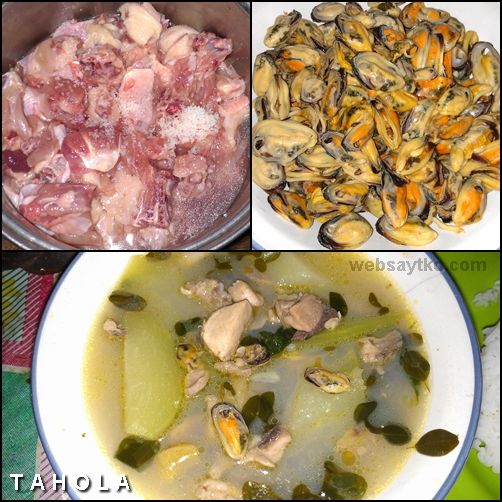 Again this recipe just oozes from my creative mind last Sunday. 😀
Thinking tinolang manok and sinabawang tahong has both the same simple ingredients, I've cooked them together in one recipe I called "Tahola".
It sounds like a cigar name like Cohiba or something Hawaiian, I just hope it's an original haha.
I'm sure everyone will enjoy its delightful taste. Just be sure to crushed the ginger really good to release its flavor and savor the mild spice taste of Tahola while it's hot.
 Ingredients:
1 kilo dressed chicken – chopped
1/2 kilo tahong – boiled and extract from shell
3 big yellow onions – chopped
4 cloves garlic – pounded
1 big ginger – peeled, sliced and crushed
4 big sayote or papaya – sliced
2 cups of malunggay or dahong sili
3 – 4 tablespoons fish sauce
2 tablespoons cooking oil
4 cups water
Directions:
Boil the tahong first and extract the meat from its shell. Set aside the stock
Saute the garlic, onion and ginger. Then add chicken and fish sauce (sangkutsa)
Add the stock, sayote and tahong and let it boil for ten minutes (add more water if needed)
Put the malunggay or dahong sili
Served hot. Happy eating!