The Diocese of Antipolo – home of Our Lady of Peace and Good Voyage, Nuestra Señora de la Paz Y Buenviaje in spanish, or simply Birhen ng Antipolo for the locals. Its located in Antipolo, Rizal and is famous for the blessing of new cars (in my case old haha!) in fact I'm planning to pimp the cushion for chair at foambymail to make it more comfy. 😀
Ok, so getting back about the church, for just an ample donation, anyone can bring their vehicle to the Antipolo Church and be blessed there by a member of its clergy, as well as the driver and passengers too! You would also receive a souvenir of  a mini-replica of the blessed Virgin Mary so you can placed it on your dashboard.
I've chose to come on a weekday to avoid long lines during weekend, that's why I sneaked out of the office momentarily and brought along some family members, together with Ozzy, C-Jay and Tricia to be blessed.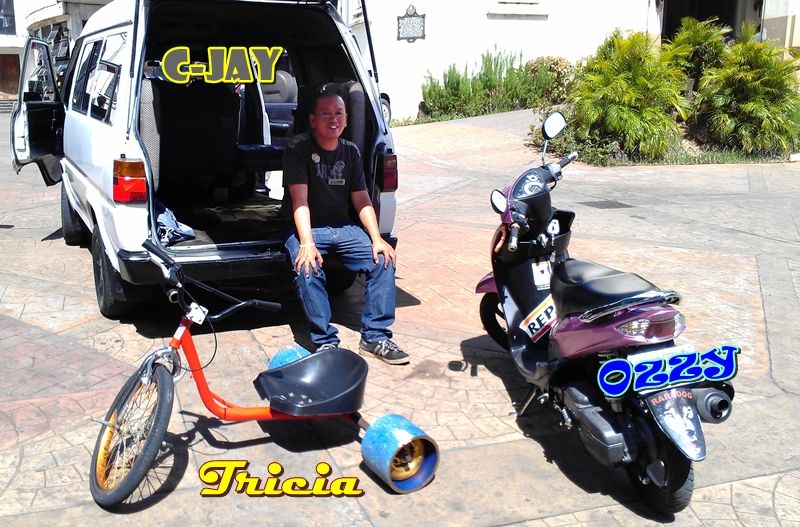 together with my newly-blessed wheels 😀
Oh by the way let me introduce, OZZY is my Yamaha Mio, C-JAY is my newly-acquired Toyota Liteace (2nd hand lang po) and TRICIA is my TV Star drift trike (she has been featured on tv for the nth time hehe). The blessing of my drift trike would be the first in history as their first ever drift trike to be blessed 😀
snack at Jollibee after the blessing
the mini-replica of Our Lady of Peace and Good Voyage with C-Jay at the background