Or should I say, our DPP Shutter Games Photo Challenge Experiment haha 😀
I have always held fast to Ansel Adams' premise that its not the camera, but the eye and vision of the photographer to capture the moment, mood or tone, employing one's innate unique vision to paint with light in this medium.  Didn't he, or some other wise soul, also say that the best camera is the one you have with you?  I agree.  And I always have my iPhone. (Source: www.iartchronicles.com) Well in my case, my HTC phone 😀
My passion for photography is on fire again after joining DPP (Digital Photographers Philippines) first ever "Shutter Games" Photo Challenge at the Bay Leaf Hotel in Intramuros Manila.
Together with JayCee, my fellow officer from PnSers (PnSers Camera Club), we decided to join the contest just for fun and to prove something to ourselves, the prize would be just a bonus haha. Since there's no specific brands of camera to be used and just like what a DPP said that even smartphone users can join. We both agree to use our mobile phones and came up with a team name of "ACT or Agaw Celfone Team" haha! (we just couldn't help but smile every time we saw our team name on the scoreboard haha!)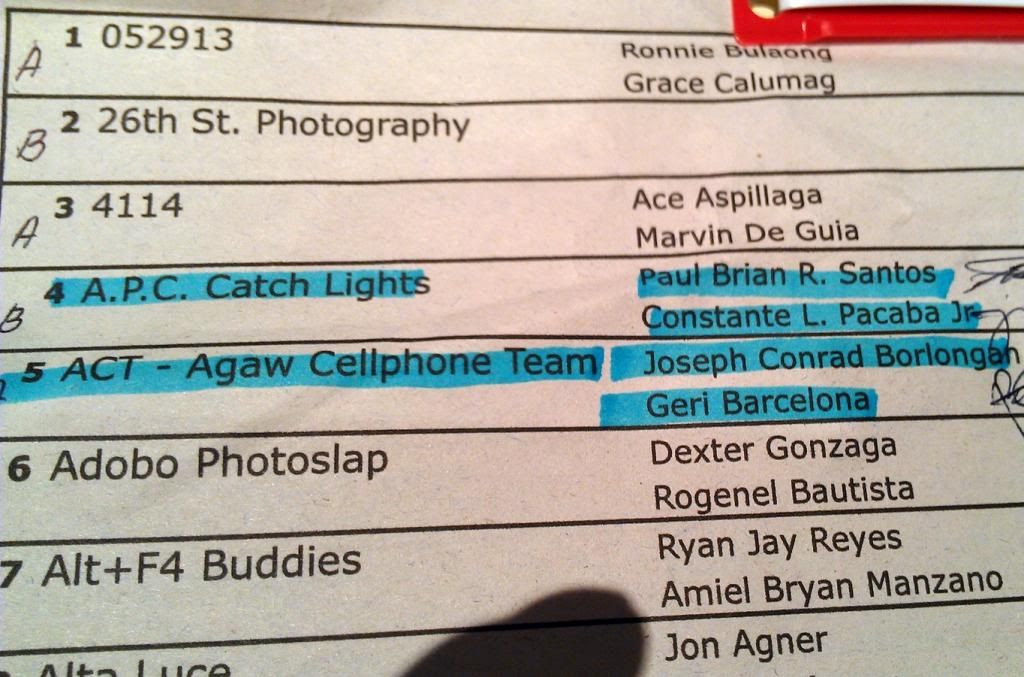 There were about 260 teams (2 person/team) that registered that day. So Bay Leaf Hotel was literally full of photographers that day! We were assigned four themes to shoot that day (2 in the morning and another 2 in the afternoon) within the walls of Intramuros only, plus one photo challenge for the Department of Tourism (DoT) slogan "Street Photography, Its more fun in the Philippines", which is by the way the major prize of the event, with a whooping P75,000 cash!
During our free time, we attended short seminars at the high-tech Phottix room by some photography guru's in the person of Ricky Ladia (I'm really impressed with his short clip at Quiapo), Niko Villegas (Fashion Photography, event host and was also a Judge) and lastly, Jay Jallorina for Cityscape Photography, I learned a lot on his session 😀
 1st Category – "The Filipino Charm"
The food or buffet at Bay Leaf which was included in our registration was super delicious that we ate a lot haha! we cut 30 minutes from our precious time because we couldn't move yet or might face the consequence of having appendisitis haha. That's why after going back to the game, we immediately hire a pedicab (even though its quite expensive P150/30 minutes) just to finish off our afternoon shoot!
 2nd Category – "Gateway to the Past"
The two hours budget for every two challenges was short, to think that Intramuros was so big that roaming around without spending long hours is difficult. That's why we have to think and compose fast so we can upload our photos to the server on time.
3rd Category – "The Accidental Tourist" 
After we've done shooting that day, we check Bay Leaf' Hotel famous View Deck, shoot some then went downstairs again at the venue to relax and watch the live scoreboard for the results. A photo will be judged 0 – 100 points, so 400 points will be the perfect score for all the theme category. We were happy we got 69 on our first photo, 58 on our second, 81 on our third, and 32 on our fourth, which we garnered 240 points at the end. We were really intense on our seats as we viewed the changing scores. We're really praying to make it to the TOP 5, but we settle for 17th place in the end. Not bad duh! 😛
 4th Category – "Contrast between Old and New"
and lastly, our entry to the Department of Tourism slogan –
STREET Photography, Its more fun in the Philippines
What's more important is that we have so much fun that day and learned a lot from the masters. Hoping to improve more and join again next year DPP Shutter Games!!!
Visit this site of Geri for more info on Street Photography using your mobile phone – http://www.iartchronicles.com/2013/04/street-photography-tips.html