Congratulations Yamaha Philippines, as well as to the thousands Yamaha owners attendees at Mall of Asia last June 7, 2014, for achieving 3 new Guinness Record!
1. Most Engines Started Simulateneously – 1446
2. Most Motorcycle Horns Sounded Simulateneously – 1425
3. Largest Parade of YAMAHA Motorcycles (dito ako kasali) – 1208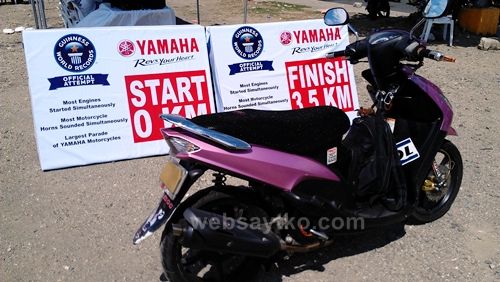 I came solo since all my riding posse at Viajista were all unavailable.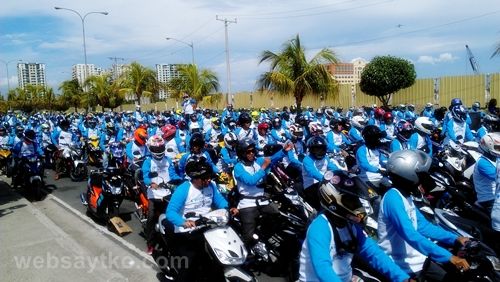 Ewan ko kung ako lang ang uninformed but these Guinness thing was not mentioned on their FB page? Pero siempre since andun na, join na rin ako, at siempre as a bonus, we all got a souvenir jersey for being part of the parade!
Good thing I came via Gil Puyat Avenue at nakita ko yung crowd sa me Seaside Blvd. at dun na ako nakapag-register. I was expecting that I would just show them the SMS confirmation message pero they did not asked for it, instead they let me fill out a form and gave me stubs for lunch, dinner, raffle and giveaways. Which I availed naman lahat. 😀 (yun lang pala sa 3S ang naiwan, which can be claim this July daw)
Bakit good thing? Well una madaming puno na masisilungan sa init ng araw and second is kase sa crowd na nasa MOA eh naging magulo pala yung registration. Andyan ipatigil dahil 12pm na daw, naubos ang forms and stubs, at yung paghingi ng xerox ng OR/CR, which hindi naman nangyari dun sa mga booth sa Seaside Blvd. At yung pinaka palpak sa overall system eh yung hindi na-honor yung mga nag ONLINE REGISTRATION kasali na ako dun, specially the first 3000 na dapat eh me premium giveaways. Dami nagtaka dun at na-bad trip kase nga feel namin secure na kami sa reg yun pala maetsa pwera ka pa.
Its a bit boring at the event itself, kase madaming patay na oras, ngayon daming tambay moments, unlike before na there's lot of things to do like going zip line, free massage, road test of new motorcycle units, stunt show, atbp. I just spent my time talking to acquaintance riders I've met while roaming around, and shoot some cool bikes around the area.
Nagkabuhay lang bandang gabi na ng mag-concert ang Rockstedyy
tapos mas maraming raffle na ang naganap. Sumabay din ang pamimigay ng giveaways kaya mejo nagkagulo na naman sa haba ng line-ups hehe. And lastly, there were two motorcycle on stage, and based from previous events of Yamaha, the riders (including me) assumed that it will be the grand prize for the raffle kaya kahit mejo gabi na, antay-antay pa rin at baka swertihin. Yun pala after the performance of Rocksteddy eh yun na!  Tapos na program wapakkk! Na Wow Mali kaming lahat 😀
Thanks Yamaha Philippines!