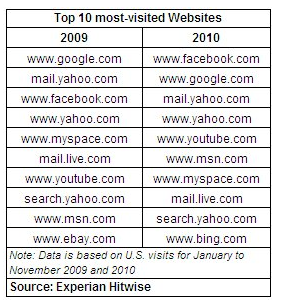 Facebook 1st – Google 2nd
I visit Google all the time, there's  even a popular a phrase to us, that If we need any information about news, popular videos, music, unusual words or just plain everything, "just Google it".
I think it's the same thing to other people in the whole world.  I'm certain  that, "They Google it" too,  coz if they did not, how else could Google be the top visited site since 2008, same as the search for the best herpes treatment being the most search-able for those who got the disease.
But last year's data came as a surprise to us netizens :), Google has slipped to 2nd place in the US, and it's the social-networking titan facebook.com who has took the 1st place on being the most visited site in 2010.
The information came from the studies of Experian Hitwise. They have provided the percentage of all online visits done in the US, wherein Facebook had 8.9 percent while Google just had 7.2 percent.
But still, if Google's overall properties were calculated – like email and youtube, Google will still be the most visited website having 9.9 percent while Yahoo settled on 3rd.