Once again we (me, Ozzy and ride buddies) hit the road. This time, our destination is in Pagudpud, Ilocos Norte! The edge of Luzon in the north and so far my most longest ride ever. Sinamantala namin yung mahabang holiday October 29 to November 1, kaso dahil sa pagod hindi na rin ako nakapasok ng November 2 hehe.
I called it the Halloween Ride simply because it coincides with the season and because of all the horrifying event that happened during our trip. We're composed of 4 people and 3 bikes. 1 Kymco Like in tandem, 1 Honda Wave and mine was a Yamaha Mio.

Qurino Bridge in Ilocos Sur
First Day – Because of a friend request, I literally brought along in my ride the urn of his mother-in-law to their house in Novaliches, I secured it tightly with wire loom to prevent any sudden vibration. Takot nga mga ride buddies ko kase baka daw sumabog yung abo. Kaya ayun super ingat ako haha! Tapos yun, after delivering the package, we then proceed to take the Sta. Maria – Bocaue route in going to Macarthur Highway. Our first destination, to our Lady of Manaoag to get our rides blessed by their parish priest. This is my 3rd time to visit Manaoag. The first two was with Miah.

Sea shore in Pasuquin, Ilocos Norte
Afterwards, we then take Pozzorubio. There we met a huge traffic at Sison because of being a one way street dahil sinisemento yung half-section of the road. That was also the time I've felt the dragging of my rear wheel. Kahit naka close-throttle ako umaandar pa rin yung scooter ko. We try to fix it at Shell Rosario but its useless. Its already dark na rin kaya we decided to find a motorcycle store para mas kumpleto sa gamit. Buti na lang we find one after travelling for 5 kilometers. Its the DLE motorcycle store managed by sir Tony. Mejo pasara na rin sila that time, buti na lang naawa nung nalamang galing pa kami Manila. Ang sira, one of the 3 clutch springs got broken and needed to be replace. Good thing me available parts din sila. Thanks ng marami sir Tony pati na rin sa mga masisipag mong mechanics that night!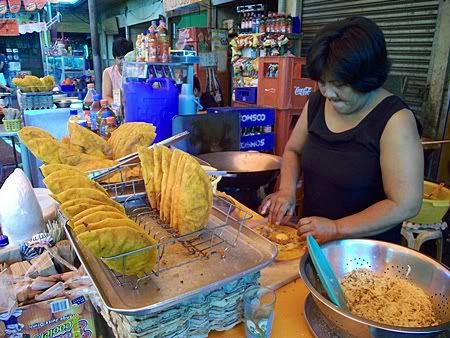 delicious empanada of Laoag
Then off we go again into that long and dark road of La Union. We passed Sto. Tomas, Agoo, Aringay, Caba, Bauang, San Fernando City, and San Juan. Before calling it a night at Bacnotan, where we check-in at Traveller's Inn. Sayang lang at low-batt na kami, ansaya pa naman nung Octoberfest sa San Juan surfing camp. Daming girls at mura pa beer hehe.
Second Day – After a refreshing sleep we're ready to hit the road. We took off at around 7am and at around lunchtime we were eating and relaxing at Candon City Mcdonalds. Thanks to its wifi I was able to update my status on FB hehe.
Along the way me horrifying aksidente pa kaming na-witness. I won't elaborate na lang coz its kinda disturbing, but it's a rider that's involved.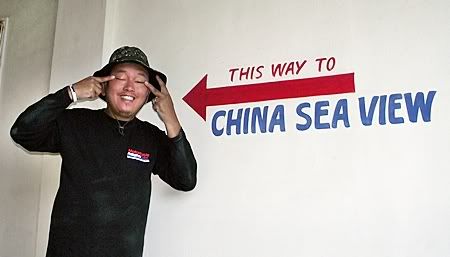 China Sea View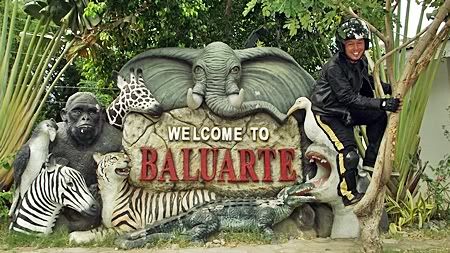 Chavit Singson's Baluarte in Vigan
We then proceed to Vigan's heritage city and Chavit Singson's Baluarte for some picture taking. Sandali lang kami then biyahe ulit. Next stop was in Laoag. Not to rest or eat but to visit a Honda motorshop. Nagloko kase yung Honda Wave nung kasama namin, panay tulo ng langis. Yun pala me punit yung gasket at needed to be replaced. Kaya nung umalis kami ng Laoag mejo alanganing oras na. For sure gagabihin na kami. Inabot kami ng ulan sa Pasuquin. Its around 6pm and its raining hard. Lalong naging mahirap ang visibility kase wala ring ilaw sa kalsada along Maharlika Highway. That time we chose to stay at a gas station hoping for the rain stops.
The attendant refer us to a nearby beach motel, we need to go na rin dahil they're about to close. No choice at nagpakabasa na ako after securing all my things on plastic. Ako lang kase ang walang raincoat hehe. That's the time we started experiencing lots of funny but horrifying stories. 😀
We then look for that elusive motel in the dark. We then found ourselves running on sands with tall grass on both sides of the road. Its supposed to be the road that leads to the motel near the sea. The whole scenario was like something from a horror movie (mala Silent Hill or Blairwitch) but we got no choice since we urgently needed a place to stay. After traversing for quite some time, we find the place but all of us are reluctant to stay as my friends saw the man that approach us branding a shiny object on his hand that was slightly covered with a towel (not to mention that he's kinda tipsy and the place looks errie too) mahirap na hehe!
We decided to turn back to the road again and find another place. As I was leading the pack slowly (around 40kph lang cguro takbo namin), I notice on my side mirror that there were are three headlights on my back when its supposed to be two only. Hindi ko gaano maaninag kase super dilim tapos panay din tingin ko sa harap kase naghahanap pa rin ako ng motel along the way. I finally found one and we decided to check it out. Dun ko tinanong sa mga kasama ko kung sino yung bumubuntot sa kanila. They said that it was a black car! But they couldn't see the driver. They were signalling the car to go ahead but still the car remained on their back for whatever reason they don't know. It's either nagti-trip yung driver or its a ghost car argghhh!
Finally, we found a decent hotel to stay for the night. Its big and has amenities like swimming pools, restaurant, billiards, etc.. They said they were fully-booked a day before kase isang buong wedding entourage ay dun nag check-in. Then while waiting for our room, we stayed at their videoke room. Then suddenly nag brownout naman. Hayyyy ano ba yan!%$@#& Umikot na naman ang aming malikot na guni-guni. Kase nga almost 1 hour na kaming nag-aantay wala pa kaming room. Antagal naman yatang linisin nun. Naisip ko tuloy hindi kaya puro dugo at dead bodies yung room dahil me massacre na naganap arggggghh! Tapos nakakailang pa yung mga smile ng mga employees its kinda weird para bang we look yummy to them haha. Then they said we can now go to our room. Its still brownout at wala kaming aircon but still the place is chilly because of the drizzle outside and the cold wind. Kase pala katabi na namin ang China Sea. So to erase all the kababalaghan on our minds. We gulped na lang yung baon naming Gin Premium, ayun saglit lang tulog agad.
Third Day –  I woke up early to take some photos of sunrise, kase nga pulos bundok at China Sea ang kapaligiran, masarap magpektyur-pektyur. I went upstairs to the rooftop para mas maganda view. At hindi nga ako nagkamali, its spectacular! On my right I can see the magnificent Cape Bojeador light house, infront of me was the beautiful and collossal China Sea, and on my left its a wide and serene cemetery! Whadapak!!!! Yung mga ride buddies ko hindi pa alam about it so tinanong ko kung ok ba tulog nila or wala silang kakaibang naramdaman bago ko tinuro yung sementeryo sa tabi ng motel haha! They all got surprised too! So we packed our gears and hit Pan-Philippine Highway. Cguro naman aabot na kami sa Pagudpud this time kase malapit na kami and the weather is fine.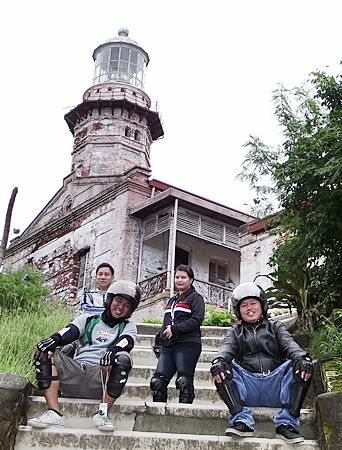 Cape Bojeador Lighthouse
Along the way to Pagudpud are some scenic spots that shouldn't be missed when your're in the area. Its the lighthouse of Cape Bojeador, Rock formation at Kapurpurawan and my favorite – the Windmills of Bangui!
This will be the last horrifying scenario. The road going to Kapurpurawan was off-road, super bumpy at maputik. Sobrang layo at liblib yung place. But since its day naman kaya sige sugod. Meron kaming inabot na mga locals riding a tricycle along the way, then all of a sudden sa isang part na mejo makipot yung daan at madaming puno they stopped in front of us. The driver alighted and suddenly walk towards me and draw his itak! Wadapakkkk!!! Naknangteteng balak yata akong tabasin nito ah! I still managed to relax and wait for his moves (mahirap umatras kase makipot yung daan, pede lang pasulong) so naka-ready na ako i-full throttle just in case iitakin nya nga ako hehe. Then he made his move. He suddenly went to his right and hold a branch of a small plant and cut it with his bolo. Hay susmaryosep! Nakahinga din ako ng maluwag haha. That's the cue that I need to ask them kung malapit na ba kami sa rock formation. They politely replied "Malapit na sir".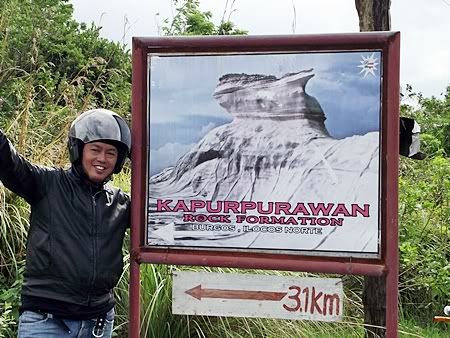 Kapurpurawan Rock Formation
Ok back to the Windfarm of Bangui. It was so HUGE!!! (I think around 20 – 30 people holding hands together in circle can embrace the bottom part of the windmill) and its so futuristic too! I feel like I was on a set of a sci-fi movie like Transformers. This was really an awesome place to shoot all day!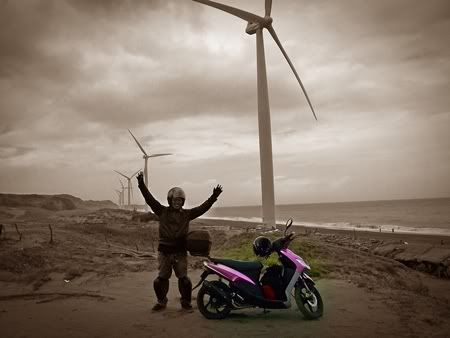 Bangui Windmills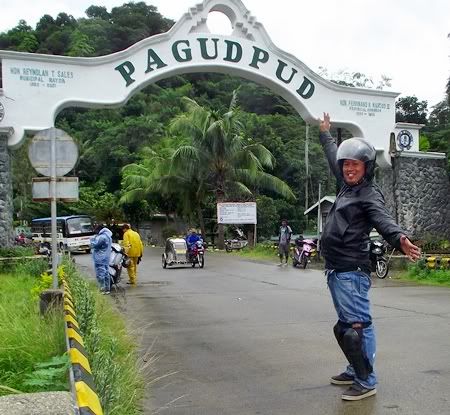 at last Pagudpud Welcome arc
Tapos yun na nga, after a few kilometers from Bangui we reached our destination – the Pagudpud arc! Sa wakas!!!! Dami naming kasabay na tourist that time coming from all sorts of transportation. Me naka van, naka bus at naka tricycle. Bukod tangi kaming naka-motor haha! Its around 10am and after a few photos at the place we decided to go back to Tagudin, Ilocos Sur (roughly around 200++). Hahabulin namin yung araw kase we decided to go to Pali (Philippine Highest Point) via Suyo-Besang Pass-Mankayan route then descend and rest in Baguio.
We arrive at Tagudin at around 4pm (after a 6 hour ride), mejo hesitant na kaming ituloy kase padilim na at pagod pa, but still we tried. We never completed covering Suyo town kase inabot na kami talaga ng dilim and since its kinda creepy there, umatras na kami pabalik. Grabe twisties dito, as in number 8 formation, tsaka makitid ang daan at madaming falling rocks area, mahirap talaga ang night riding. Not to mention the two cemeteries na nadaanan namin sa loob na lalong nagpanginiggggg sa amin hahaha!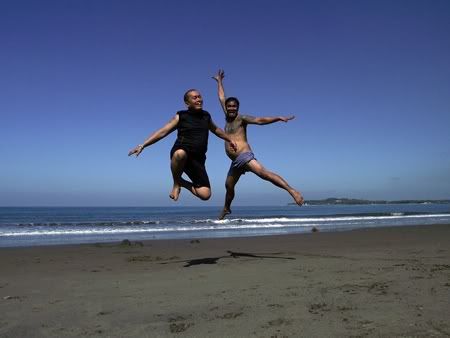 Bauang, La Union Beach
We decided to go to La Union na lang or kung saan abutin ng pagod. At sa Bauang, La Union na kami tuluyang na-lowbat at nag-overnight. Since hindi na kami gaanong nagmamadali pauwi, we planned to take a dip at the beach sa morning. Maganda kase mga motel dun me beach sa likod hehe. Tapos eat lunch at tulog ulit. Ayun 4pm na kami nakaalis haha! Inabot na kami ng 11pm pagdating namin ng Manila.
I hope you enjoy my ride report to our Halloween Ride to Pagudpud!
Total Riding Distance – 1236 Kilometers or roughly 2 round trip to Baguio (270 kms 1 way) and 156kms remaining. Still enough for a round trip to Tagaytay
Total Gas – 29.12 liters
Average Consumption 42.6km/liter
Speed 80-100 kph (minsan 120 hehe)
Bike Used – Yamaha Mio
Spills – 0% – muntikan na, thank you God!
Parts Malfunction – 1 broken clutch spring, 1 flat tire
Success Rate – 99% (miss Pali, Highest Point)
Fulfillment and Happiness –  100%
Bragging Rights – 101% 😀