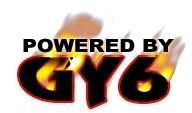 We'll GEELY is actually my ride. She's a 150cc china scooter of mine. She is also known as Eagle 150. She has a small but powerful GY6 engine. We've been using it for almost 4 years now. Going to work/home, run errands, even to the market on weekends. I can say that she is very economical in terms of gasoline consumption. She can run at 35km/liter, with the average speed of 60 -70 km/h. Im not the speedy type, but It can zoomed when the need arises or when you want some thrill. All parts are stock, except for my pulley which is now a racing pulley.
The large space on the front seat has very important role. I can not imagine other type of motorcycle that can handle what that space have to offer. I can put there almost anything, like an LPG tank, 2 sacks of rice, big basket (for market), a dog, water jug, even hollow-blocks hehehe.
Lucky for me, coz there is no major trouble for the time that we are using Geely, except for the regular change oil, and the following items which I have replaced already (front and rear tire, rear shocks, spark plug, front bearing, handle grip, stock pipe, brake pads front and rear).
Im also keeping Kim. Another scooter of mine. She's a 90cc Kymco Yup scooter. Before, I always ride her, hehehe, year 2001 to 2002. Unregistered scoot are no that hot that time. I always ride with a group, going to Famy Laguna, caliraya, Louisiana Quezon, Lucban Quezon, Tagaytay and just joyriding around the metropolis. But now Kim just stays in the garage, I do start it's engine from time to time:D
I always browse and join the forum at my favorite motorcycle website, motorcyclephilippines.com, it is where I got most of my knowledge in fixing/modifying Geely and also gained friend from different parts of the world. I'll be posting some tips on GY6 engines I've gathered from the net, which I think might be helpful to my co-scooterist using the same engine. As for now, Geely is recuperating, bcoz she had an open- carburetor bypassed, hehehe 😆