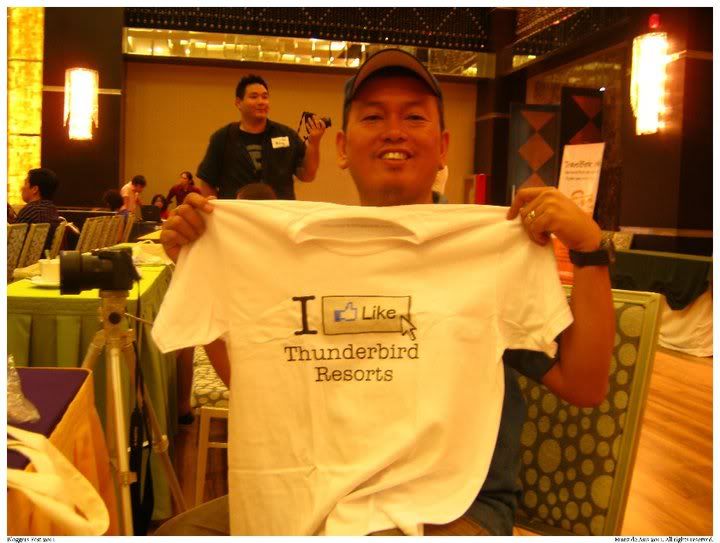 The Tale of the Growing Thunderbird Resorts Tshirt
It started after my name was called during a raffle contest at BloggersFest 2011 held at the scenic and prestige Thunderbird Resorts in Angono, Rizal. Together with fellow bloggers and indians – Zenkz, Clutch ,  Pobrengpinoy. and Len (clutch ex-gf) hehe.  We all came to the said event from invites coming from Azrael – a fellow blogger and an event master.
Ok about the growing Thunderbird Resorts shirt. I know your curious now since you have reached this sentence haha! Ok, so I got a Thunderbird Resorts t-shirt from the said raffle and it literally grows bigger in size in just a few hours. Unbelievable isn't it?!
Ok so your still here and anxious haha!
Here's why. (tining – tininggggg)
I got the shirt before lunch time. I've checked the size and it's MEDIUM. obviously not fit for my beer-belly me, whattaheck, its free! Then at by mid-afternoon, Pobrengpinoy also won the raffle. He won a t-shirt too, and it's LARGE! Yup, you're right! We did swapped our tshirts as his body built was for medium size. Were both happy coz I know now I can now wear the t-shirt, although not snugly fit.
Then the last morphing of the tshirt happened that night hehe. A lady blogger infront of was called down to get her prize. Yes, you got it again! She also won a Thunderbird Resorts t-shirt! As she went back to her seat, just infront of me, I can see her head in frustraton (wobbling left and right). I then hear her say " The t-shirt is too big for me, huhuhu!"
That's my cue haha!
I courteuosly asked the lady if she would  like to swap her t-shirt with my t-shirt. And she said yes without hesitation, yipeee!  So  we exchanged tshirts. Now I know I can comfortably wear my tshirt hehe. So that's the Tale of the Growing Tshirt. Hope you like it. The End.