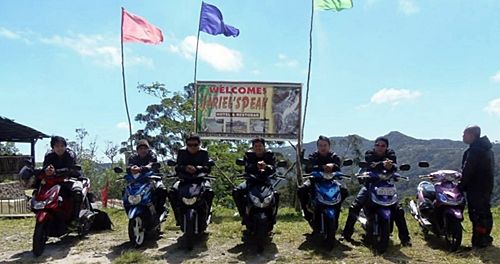 The Viajista's went for a quickie ride at Infanta, Quezon last March 1. We went to the famous resto-bar for fellow riders like us, its at Jariel's Peak where we did some kind of Fear-Factor thing as we ate four exotic cuisine – Adobong Alamid, Adobong Sawa, Sizzling Mountain Snails and Sinigang na Baboy Damo, the Alamid is the most disgusting of all because of its pungent characteristic hehe.
Ok so back to my ride report. The whole travel is approximately 160 kilometers (balikan na yun). Perfect for those who just want a short ride. We took off at Shell Marcos Highway, eat breakfast at Mang Vic's Bulaluhan then went straight to Infanta, Quezon via Marilaque crossing Sampaloc junction in Tanay, Rizal.
The road after junction is well- paved and lots of twisties to offer for those riders who likes banking or cornering, but its a pity that we find it bumpy compare to the smooth road in Sierra Madre.
We took the same road on our way home then left-turn at the junction (Tanay-Sampaloc Road) which is where my rear tire was punctured by an inverted nail. (yung ulo ang tumusok haha!)
Arrived 4pm at Taytay, Rizal, at the crib of one of the Viaista's for a quick round of few beers for relaxation and story-telling before going home. 😀