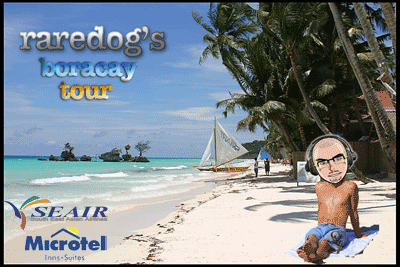 Can you guys help me decide what would be the best title for my upcoming travel and adventure post? I'll be travelling kase to Boracay this coming September via the fast and comfy SEAIR Airlines!
Siempre pah I'm superduper mega excited bcoz this would be my first time, (kinda virgin ya know haha!) tapos,  while I'm there I'm planning to stay at the Mediterranean inspired Microtel! O di bah bonggah, tapos nasa beachfront pa location, astig!  Cool and cozy na, bang-for buck pa! Yeah!
Ok, so here are the titles – "Raredog goes to Bora" – "Raredog's Boracay Escapade" ,"Raredog Invades Bora" or "Girls of Bora meets Raredog" hehe! Whaddyatink is the best?
As in, as if, as kal hehe, wish ko langggg! I was actually dreaming po mga kabayan! Of course I do love to go there and checkout the beach, the gigs and the girls haha!
I was referring po about this blogging contest – Be part of the SEAIR & Microtel Boracay Bloggers' Tour! where they would pick 8 lucky winners.
Sana, I hope, (sana na, hope pa) this post of mine would be pick by the judges. O kaya nman madami ang mag LIKES sa inyo sa facebook…ahemmm-ahemmm..calling all my kapamilya, kapuso, kabagang at kamag-anak!
Aba eh kung hinde nyo ako ila-likes aba eh maglimutan na tayo! Haha! Jowk ulit!
To SEAIR and Microtel? Shall I pack up my gears now and drink beer with you later? Haha! kampai!! Kombe!!  Sa totoo lang, kahit sa hammock or tent lang ako guys pede na! Basta makasama lang ako hehe!
P.S. One more thing why you should choose me to go to with the other bloggers.
I make the best Zombie drink in the house!!!  😆