Out of the norm and the boredom from my daily routine. I found myself one morning lining-up at the registration for the MotoKhana at SM Fairview. Together with my racing partner Dek, we filled-up the forms and pray that we made a good decision in joining this kinda extreme sport hehe.
MotoKhana – Its where motorcycle riders, traverse the course (made of distributed pylons) at the fastest possible time with little or no errors. Like if their foot touches the ground, or if they hit or knock down any of the scattered pylons.
What I like about this sport is your not required to own a souped-up bike to join, just bring any motorcycle that you think can handle the tracks. Just like what most aficionado's of Motokhana always says "Its a motorcycle rider skills challenge – where the rider wins the event and not the bike" In my case I brought Miah, my ever dependable all-stock Yamaha Mio scooter.
It was an exhilarating day for everyone as we (participant) got the chance to enhanced our skills – balance, maneuvering, agility, leaning, discipline and even our memory's got fine-tune  (memorizing the uber-technical and maze like course or suffer a DNF status if you go the wrong way hehe) . I really had a hard time (not a hard-on) on the multi-8 or snakepit. I almost spill during the practice session haha!
Me and Dek have so much fun that day! Even though we're totally burnout after all the activity! Thank God we don't crash, but we absolutely got a crush on the two lovely ladies of Castrol hehe.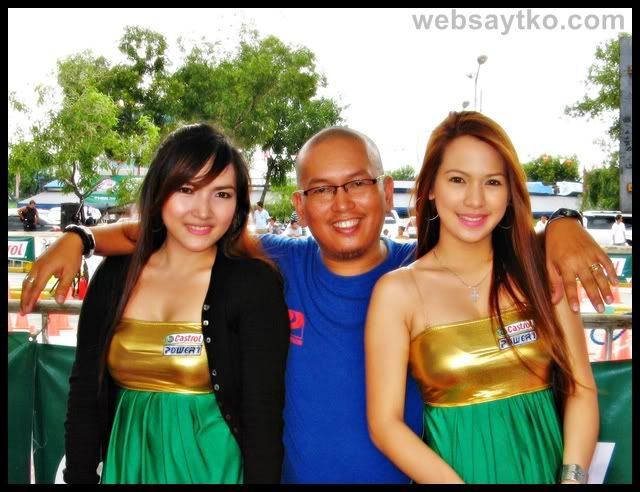 The overall results weren't so bad! Dek was in 8th place and I was at 11th, out of 17 entries, in the scooter category. For a first timer like us, it's already rewarding. I say we might do it again next time. Hopefully, they separate us from the much skilled riders. 😀