And now Chapter 2…
PnSers Camera Club (PCC) leave Lualhati ng Maynila pass 10am and head straight to PDA or Pan De Amerikana. Its also within the vicinity of Marikina City so it just takes a few minutes to get there.

panorama inside Pan De Amerikana
Almost 99%  of us are first-timers to the place. I myself had been scouring quite a number of great stories and photos on the internet about this cool place for the past weeks, and now we are here, yipee!

new members signing-up
The place is awesome! Its like its built with photography in mind. There are vast numbers of photo subjects and sceneries to choose. From antique figurines, mirrors, lighting fixtures, clocks, carvings, giant chess board, calesa, and many more. Would you believe they even have a hanging bridge on top haha! Although you don't have to worry even if you got the cheapest health insurance because its not that high, its just a one-story free fall lol.

Indians during lunch break

giant chess
Its the most photographer-friendly place I've been. You could freely roam around the place and shoot just about anything without the hassle of being warn by a guard haha! Even their toilets has something to offer. Do check out the marvelous mirror below!

mirror at the toilet 😀
By the way, their food was delicious and not that expensive too! Have I told you they got Free WIFI also haha!!! I really would like to go back there again! 😀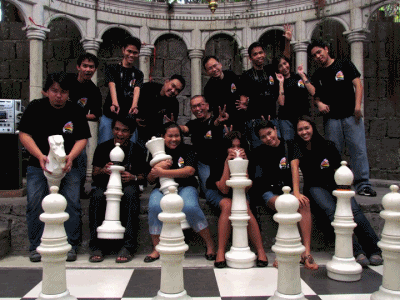 group shot 😀