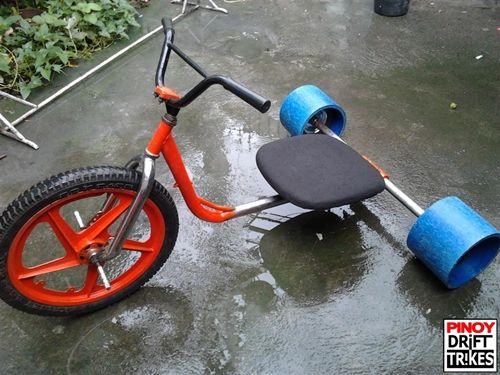 Since I've founded Pinoy Drift Trikes page on Facebook last May 2,2012.  I told myself I gotta have a drift trike the soonest possible time! And so PROJECT: TRICIA was born. Its what I called for the making of my drift trike which I've named Tricia.
I started collecting and buying bicycle scraps last week of May 2012. The first I got my hands on was my kid's bike handle bar (I replaced it with a plain pipe hehe) then I bought a bike frame and a magwheel from a junk shop, followed by a new pair of pneumatic caster wheels in Binondo (8 inches diameter). By the way these wheels is one of the major parts of the trike, it will be purposely inserted inside a pvc pipe for the trike to drift.
And speaking of pvc, you gotta have lots of patience with this. I tell you, this is the most elusive part, I could have finished this project in a much shorter time if its readily available. Its popularly known as "sleeves" and Its actually the last part  Tricia needed to be 99% complete.
Lo and behold! Last Saturday was a good day for me and Tricia for I've finally found a source to buy a pvc pipe. (after 2 months of searching haha!)
Me and some neighbor posse help in assembling Tricia right after I brought home the pvc pipe, everyone had a smile on their faces because drift trikes is so new to their eyes that they want to built it quickly to see how it lookslike and how it works. So within a few minutes we took it to the street for a road test and drifting action! The air filled with awe and amazement (specially the kids) as Tricia drifts well on the pave. By the way you might ask, why 99%, its because I still need to put a front brake on it 😀
A little cranking and tuning plus good weather condition and I will find myself seriously drifting with other drift trikes owners at some cool downhill spots. Stay tuned. 😀
UPDATED October 12, 2012
Here's Tricia and me now. 😀