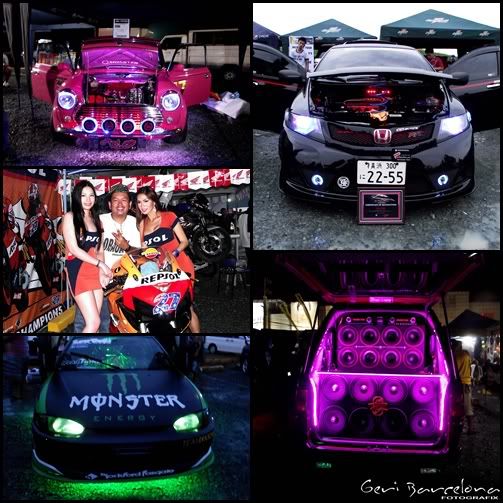 Awesomeness at its best! This is how I described last Saturday's event at SM Taytay grounds as it present to the public the RACE – CAR & BIKE MOTOR SHOW!
I could say RACE or Rizal Association of Car Enthusiast does organized this event well and were tremendously successful to this event! They brilliantly delivered the first awesome car and bike show at SM Taytay or should I say in Rizal.
PnSers members and myself arrived there at around 5pm and found numerous people all over the place to see all those mean machines despite the medium rain that afternoon. From classic cars and bike to the most modern and expensive mode of transportation. They even got customized choppers and go-kart, customized tricycle and the transformer-like passenger jeep to the delight of the crowd.
Not to mention all the gorgeous models to almost all cars and booths. If the cars don't make your jaw drop, they will haha!
This kind of event need some beat to make it more lively, and this is where two vans of sophisticated and high-tech mobile sound setup of Ground Zero nailed it! You can't stay near it for long or you might get deaf haha! The sound is superrrrrr loud, with all that speakers and giant amplifiers to boost it.
What everyone needs here is some business cards to promote or introduce your company and give to your would be client or acquaintance. Be it your favorite car, booth, dealer, or the girls hehe. And that's what upset me that night as I found out, I didn't bring mine. 🙁
Just like what they offer at businesscards24.com. High Quality UV Coating and with your own personal design on your business cards.
Congratulations RACE! Looking forward for more events like this! San nga pala yung mga 4×4 ng Rizal?